Get the Look: 5 Ways to Use Glass in Interior Design
Interior design, and residential space more generally, has changed beyond belief over the past century. Electricity has largely replaced candles and gas-lit bulbs. Radiators have generally overtaken fires as the go-to method of heating. Only the largest and grandest of houses used to have on-hand staff—nowadays, however, digital assistants are seen in homes of all shapes and sizes.
But do you know one thing that hasn't really changed? Glass. Only, it has—it's just that many people don't know about it yet.
In this article, we're going to look at 5 ways to use glass in interior design. We'll explore the benefits of smart glass, dive into a few of its potential applications, and hopefully get your creative juices flowing, helping you revamp your interior design going forward.
What is Smart Glass?
Smart Glass (also known as Switchable Glass or Intelligent Glass) can switch instantaneously between being transparent and translucent at the click of a switch—and it can even be hooked up to your own automation system. The glass is coated with a layer of liquid crystal molecules, which are randomly orientated when there's no current passing through the window. When an electrical charge is applied, however, the molecules all line up—allowing light to beam through, and rendering the privacy glass clear.
As well as being a cool party trick, smart glass has a range of benefits. If it's a nice day and you fancy gazing out into the view then you can keep the window transparent. However, if it gets too hot—or you simply want a spot of privacy—then you can instantly make the window frosted. Our innovative glass technologies don't stop there, as well as our elaborate Smart Glass range, our Mirrorvision Glass technology can turn any standard Smart TV into a mirror!
5 ways to use Smart Glass in interior design
1. Bathroom privacy

Glass gives your bathroom a swish, sleek look—but it can have its downsides too. While you might want to let plenty of light in during the day and take in the views of the surrounding area, you probably don't want everybody being able to see you shower (especially in the evening when you'll be particularly well lit-up).
Alternatively, consider using Smart Glass to gain a little extra privacy between the bedroom and adjoining en-suite bathroom like a smart glass door maximizing the reach of natural light to allow the space to appear bigger, without compromising on privacy.


2. Glass floors
Our Switchable Glass Floors have an amazing impact on both residential and commercial spaces. For example, installing glass flooring above basements or cellars will give these typically dark spaces a light, bright, and airy feel.
Alternatively, you could even use our Switchable Floors as the base of your swimming pool or as a luxurious storage solution if you're an avid collector maximizing your display space in a quirky yet sophisticated manner.


3. Conservatories
Conservatories can be great, giving your space a well-lit, bright, and airy feel—but many people feel like they have to opt for corrugated or frosted roof's to maintain privacy from their neighbours. With Smart Glass, however, you can choose between transparency or privacy at the click of a button.
Plus, they mean that you can avoid the intricate task of rigging up a comprehensive curtain-blind system on your conservatory windows, a more hygienic solution that provides a functional yet minimalist interior design.


4. Staircases
If you're looking to create something really outside the box, why not consider our Smart Glass Staircases? One of our customers decided to use Switchable Smart Glass Stairs above their bathroom, utilizing an existing skylight to flood the space with much-needed light whilst allowing necessary privacy and a bespoke, enviable design.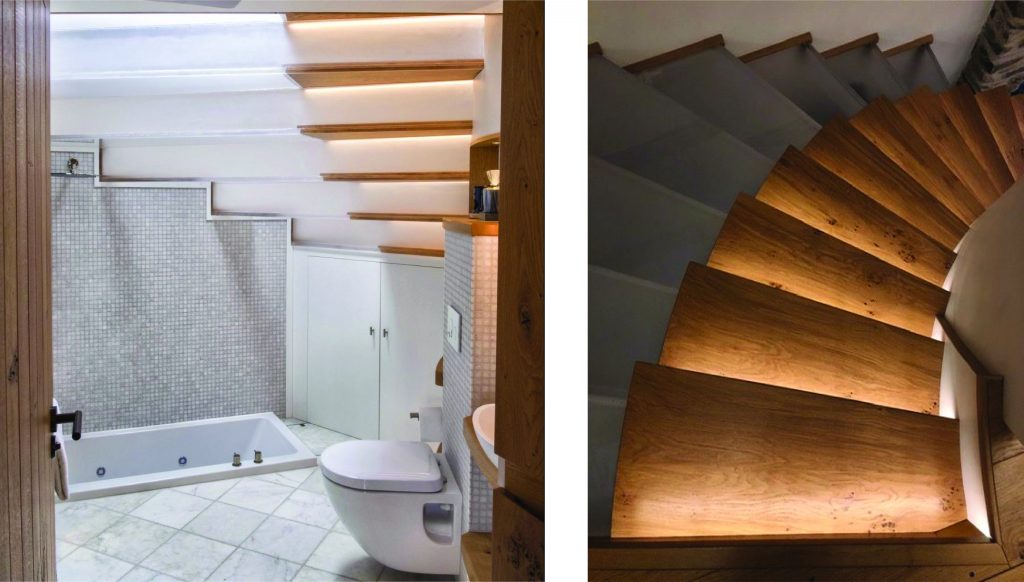 5. Mirror TVs
Nowadays, you don't have to hang both a mirror and a TV on your wall to get the benefits of both. Install one of our Mirror TV Overlays and turn your TV into a mirror as and when needed—giving you the best of both worlds.
We offer a wide range of Mirror TVs for different purposes, including Standard, High Reflective, and Ultra-High Reflective Mirror effects.


---
Embrace smart glass, today
Looking to transform your interior design? If so, get in touch with a member of our expert team to discuss your needs in further detail—we can't wait to hear from you and to get started on your project.