Get the Look: Innovative Office Design Ideas
It's so important to keep your office space fresh, modern, and appealing. Nobody wants to spend 40 hours a week in a dark and dingy space—so your office space must move with the times. And once COVID-19 restrictions are lifted, many employees will want to switch between home and office working, meaning when they do spend their time in the office it needs to be an appealing place to work too. 
Below, we've listed some innovative office design ideas to transform your workspace. Our recommendations span all budget sizes, so there should be a few ideas that can work for all businesses. By investing in your office design, you'll increase your employee satisfaction, wow clients, and give your business a sleek, modern appearance. In fact, according to Gensler's Workplace Performance Index, the right kind of office design can increase employee productivity by a massive 20%. 
So, let's get started.
A Smart Office, in Every Sense of the Word
Investing in smart office technologies can do wonders for your office environment. By installing Switchable Smart Glass Windows, you can do away with pesky, fiddly blinds and ensure that your office space is automatically lit to perfection.
Manufactured by integrating a PDLC layer into the product, then wiring this up to a power source, Switchable Smart Glass Windows can switch from translucent to opaque in an instant—affording you complete control over how much light enters your office space at any one time.
Natural light in the office has been found to boost the mood of your employees. Plus, workers in lighter spaces are thought to be 15% more creative. That means that ensuring your space has as much natural light as possible – as well as packing it with greenery – should encourage thinking, reflection and an ability to step away from the day to day for more blue-sky thinking. 
But that's not all.
You could even install Switchable Glass Partitions to create smart meeting spaces that allow you to choose between a fully transparent, light, and airy feel or complete privacy as and when needed.


Indeed, if you are looking for the latter, then you should also consider Sound Insulating Acoustic Switchable Glass. By sandwiching a sound-insulating inter-layer between two pieces of glass, and adding PDLC-integrated technology, you can ensure that no sound escapes the meeting room—or that you're not distracted by unwelcome noise from outside.
A Splash of Something Different
Don't feel constrained by decades of standard office set-ups. Believe it or not, you don't have to go down the typical route of endless cubicles and rows upon rows of desks.
Take Google, for example. While you likely don't have quite so much budget to play with, take a leaf out of their book and try something completely new. At Google HQ, employees can choose to take a slide down to the ground floor—instead of waiting for a lift or trudging down the stairs.
Why not switch up how your team works and move away from the norms of desktop computers? For creative businesses or workplaces that require frequent collaborations between colleagues, why not integrate an Interactive Touch Table into your communal areas? These touch tables are a perfect place for your team to gather around whilst sharing presentations and ideas on a larger, more digestible scale.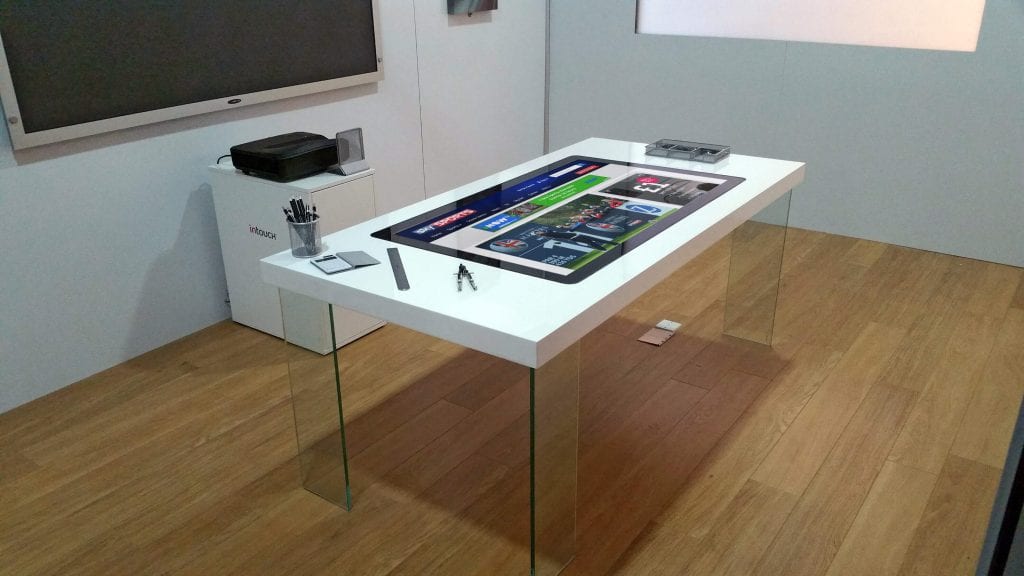 If you like the idea of a collaborative workspace, why not consider combining the integration of our Smart Glass Partitions with an Interactive Touch Frame to create an Interactive Switchable Glass Wall. This gives you a versatile space built for meetings, brainstorming and team interactivity, guaranteed to generate more ideas and a more engaged workforce.
Research suggests that eight-hour-per-day employees contribute just under three hours' worth of productive work per day. It's clear that current office designs aren't getting the most out of employees. Recent studies suggest that the most productive among us generally work for around 52 minutes, before relaxing for roughly 17 minutes and continuing this cycle until the end of the day.
That's where pool/ping pong tables and breakout rooms/relaxation areas come in handy. They give your employees a tangible, separate space where they can interact with one another, refresh, and recharge themselves, ready for their next bout of work.
Rather than disincentivizing work, such facilities aid productivity—allowing your employees to take a work-boosting break as and when needed.
---
A Future-Proofed Office for a Forward-Thinking Company
Before you begin to welcome employees back to the office in the wake of COVID-19, there's never been a better time to refurbish your office: making it smarter, sleeker, more welcoming, and a more enjoyable place to work.
Surprise your staff, unlocking increased productivity and employee satisfaction. What's not to love?
To find out more about how Intelligent Glass' range of innovative products transform workspaces for the better, get in touch today.