Why Hotels Should be Investing in Switchable Glass
With hotel occupancy levels finally reported to be bouncing back to where they were pre-pandemic, now is a better time than ever to be investing in the hospitality sector. This recovery is said to be driven by the rates on rooms, with Alex Robinson, STR's director of industry partners saying that Europe's July room rates were 27% higher than that of 2019, but with an increase in cost, visitors will understandably expect an increase in expected quality.
This level of expectations is only heightened by the consumption of social media, with hotels and Airbnb's all over the world seeing themselves booked up a year in advance after a mention in a 'viral' post. To be worthy of being viral you have to be offering something different, unique, an experience that stands out amongst the noise of the competitive hotel industry. Whilst it's become a popular choice for businesses and households alike, switchable technology is still widely unknown and to those who know it, is still no less impressive when experienced in person.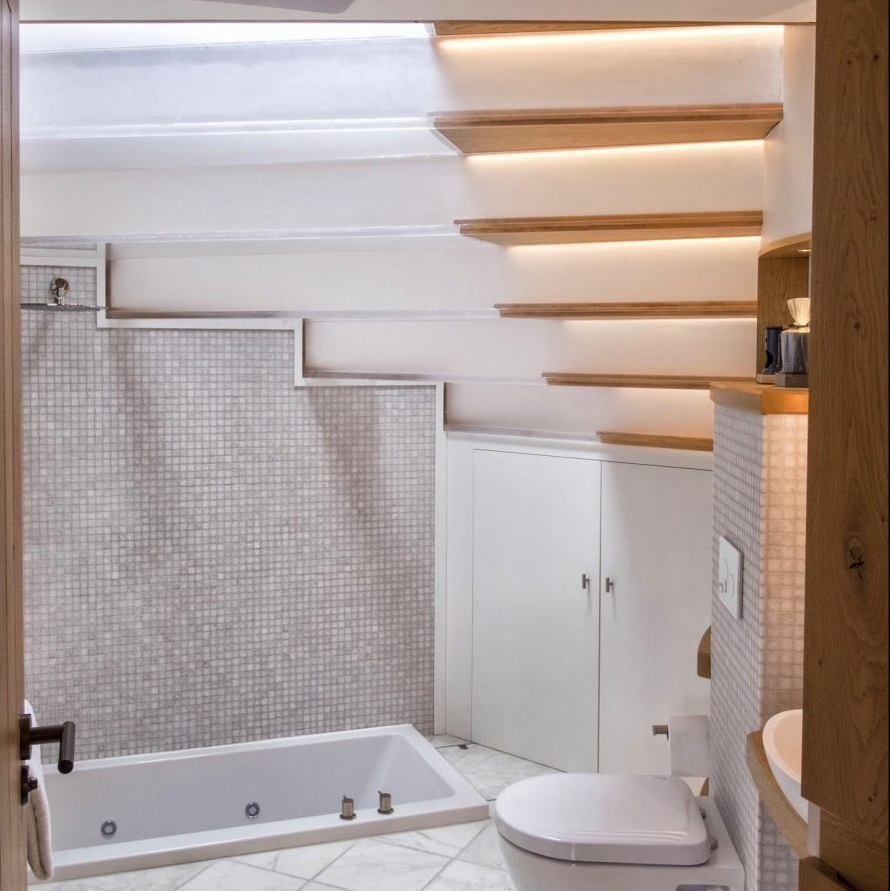 The Theatre of Switchable Glass
Our Smart Glass has been used to elevate experiences in a range of industries, from working with retail giants like Harrods to creating more captivating educational experiences in museums all over the globe. This theatre can be created in many ways within the hotel space but can be used most effectively within the individual guest rooms. By using Switchable Glass on external windows the reveal of the view becomes a pivotal moment in their stay, offering an 'instagrammable' moment as well as memories that will last long after they leave. One such moment saw a 'Switchable Bathroom' that changed from clear to frosted when the door was locked peak interest across social media platforms due to its individuality, creating a more expensive and luxurious feel to the room.


You can even create these moments without having to replace your existing windows, as we offer a retrofit solution offering the same functionality but with little disruption to your surroundings. Our Switchable Film is manufactured with a self-adhesive layer allowing it to be easily installed to any existing glass or plexiglass surface.
The Illusion of Switchable Technology
Whilst Switchable Glass can be used to great effect on windows, the effect it can have internally is arguably more impressive. Not only do switchable bathrooms offer a wow moment to guests, but they are also the perfect way to maximise the space you have on offer. By replacing standard partitions with Switchable Glass, light is able to pour into the furthest corners of the room, making it appear much larger. By allowing these bathroom spaces that, as standard in hotels, don't usually have their own window to become brighter, the overall mood of the room improves to create a lighter, more comfortable atmosphere.


This exact concept was used in the Novotel London Heathrow T1, T2 and T3 hotel, where 136 rooms were fitted with our Laminate Switchable Safety Glass between the bedroom and bathroom areas to create a more open room design. The beauty of switchable technology is it encourages natural light flow both switched on and off, so light can continue to illuminate the space no matter which state the glass appears in. This stylish solution keeps privacy at its core, offering comfort in knowing that even if a power failure was to occur, your privacy and dignity would be maintained, with the glass appearing frosted in its off state.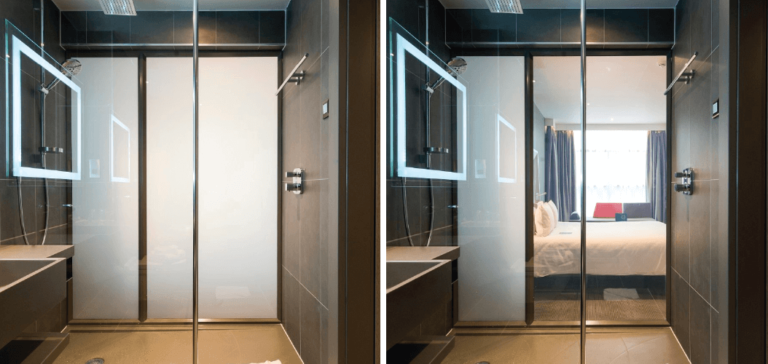 The Practicality of Smart Glass
As well as its showmanship, there are many practical benefits of incorporating Smart Glass within a hotel environment both inside and outside the rooms. Using smart glass windows can not only reduce irritating and inconvenient glare, but it can also reduce solar heat gain by up to 40% to create a more comfortable temperature within the room. Our Smart Glass Vision Panels also make a great addition to family and adjoining rooms, offering parents the opportunity to check in whilst encouraging their independence.


In common spaces, Switchable Glass is a great tool to create more multifunctional rooms, ideal for hotels that regularly host events like conferences or even weddings. Switchable Partitions can be used in meeting room settings to offer not only a stylish privacy solution, but it's also a great sales opportunity to have the glass clear when not in use to advertise the space.


---
Interested?
If you'd like to create a more luxurious, modern hotel space using our Switchable Glass technology, get in touch via the form below of call us on +44(0)1226 361 306.