Switchable Glass Solutions for the Modern Home
Privacy has always been a key factor in decision making when it comes to buying a home. With new build homes offering a fraction of the space when compared to older properties, homeowners are now looking for new ways to keep their space private. Traditionally privacy has always been achieved using blinds and curtains but with smart homes trending in interiors worldwide, alternative solutions on the market are being favoured, one in particular being Switchable Glass.
What is Switchable Glass?
Switchable Glass, also known as Intelligent Glass or smart glass, is an innovative technology that is capable of adjusting privacy or light transmission on demand. Providing a more modern and minimalist alternative to blinds, Switchable Glass in its off state appears as translucent, giving a frosted effect but when an electrical current is applied, becomes transparent.
Switchable Glass can be used as an alternative to standard glass in all areas of the home and can also be produced in the form of a self-adhesive film, that can be easily applied to any existing glass surface.
What are the different types of Switchable Glass?
Switchable Glass comes in all shapes and sizes, having many unique uses in all areas of the home. There's no one size fits all, Intelligent Glass provides made to measure solutions that are completely bespoke to the individual.
The most common type of Switchable Glass used in homes is Switchable Double Glazing. Providing an improved thermal performance to keep your home cool in the summer and warm in the winter, these units can reduce solar heat gain by up to 30% whilst still allowing natural light into the property. Used in the Collard Towers dream home build and featured on C4's 'Building the Dream', two 1100 x 2100mm double glazed Switchable Glass panels were integrated into their entrance hall, allowing a huge amount of natural light into the space whilst providing the option of privacy at a moment's notice.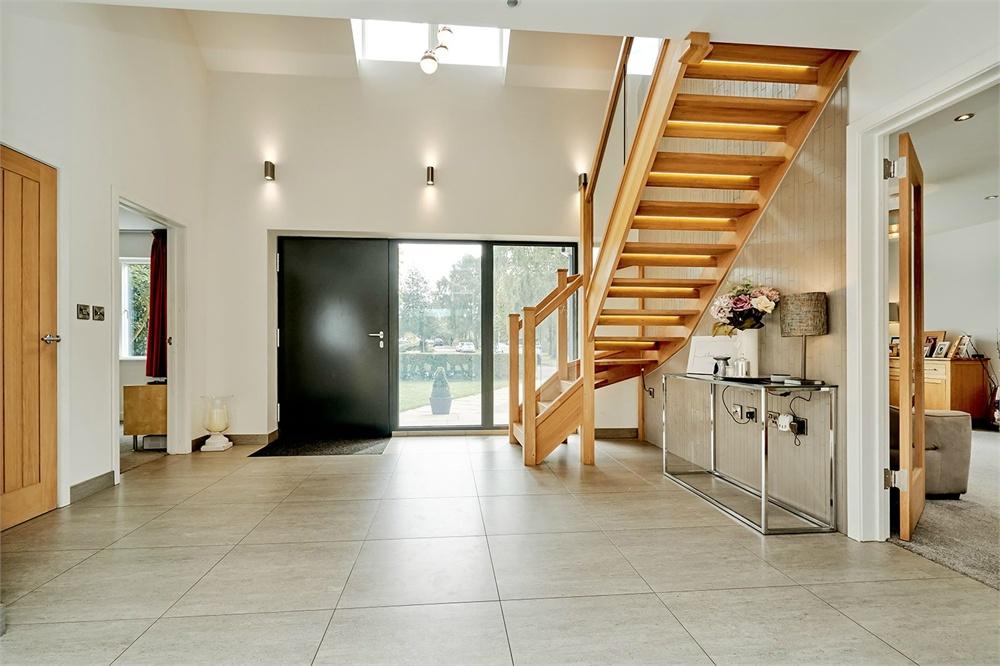 For homeowners who are looking to renovate rather than build from scratch, Switchable Film is the most popular option. Designed to retrofit easily to any existing glass surface, Switchable Film is ideal for applications to windows, doors, dividers, skylights and more. Used as a finishing touch to an already breath-taking project, MATT Architecture worked with Intelligent Glass, using Switchable Film to create a focal point for the multi-award winning home, Number 23. The modest exterior conceals a home that is actually 30% bigger than its neighbours despite occupying a 20% smaller plot, using sun pipes, skylights and Switchable Film to flood the interior with natural light and create the illusion of an even larger space without compromising on privacy.


The popularity of the Ring doorbell has emphasised the interest in knowing who's outside before you answer the door, but this can be incorporated into the door itself with a Switchable Vision Panel. Battery operated and with no external wiring, these vision panels can be easily retrofit into existing doors with little to no disruption and made to fit custom shapes and sizes for a solution that's completely unique to you. A clever solution that works at the touch of a button, that won't impose on the aesthetics of the interior.


The range of Switchable Glass solutions on offer are huge, with laminated and toughened options being popular for room dividers, doors and bathrooms. Also on offer are more specialist products including curved, acoustic and fire-rated Switchable Glass, as well as the elusive Switchable Dark featuring a dark grey appearance, that brings a cosier atmosphere to any room.
What are the benefits of using Switchable Glass in the home?
The main benefit of using Switchable Glass in the home is the control of your privacy being in the palm of your hand. Switchable Glass changes between frosted and clear in seconds, with a range of control methods, this technology is flexible to your needs. More traditionally, Switchable Glass has been wired up to wall switches, but operation via remote-control is heavily favoured, working from up to 25 meters away. In recent years, switchable technologies have also been integrated within smart home automation systems, from apps and built in control panels to incredibly popular voice automation systems like Amazon Alexa and Google Assistant.


Switchable Glass is commonly used to maximise the amount of natural light in the home whilst remaining private. Areas that are usually void of natural light like basements, spaces under the stairs and sometimes en-suites, are now benefiting from systems like Switchable Glass doors, skylights and walls, flooding them with light making the interiors appear larger and more inviting. One great example of how Switchable Glass can be used cleverly is in this barn conversion where the owner looked to get the most out of his limited space. With the main bathroom of the property positioned under the stairs the space was destined to feel cramped and dingy, but with the genius addition of Switchable Glass stairs the bathroom became illuminated with light, keeping the intimacy of the space still intact. The property also utilised a cleverly placed skylight above the stairs to lighten the interior, even allowing the opportunity to stargaze from the bath in the evening whilst the stairs are switched to clear.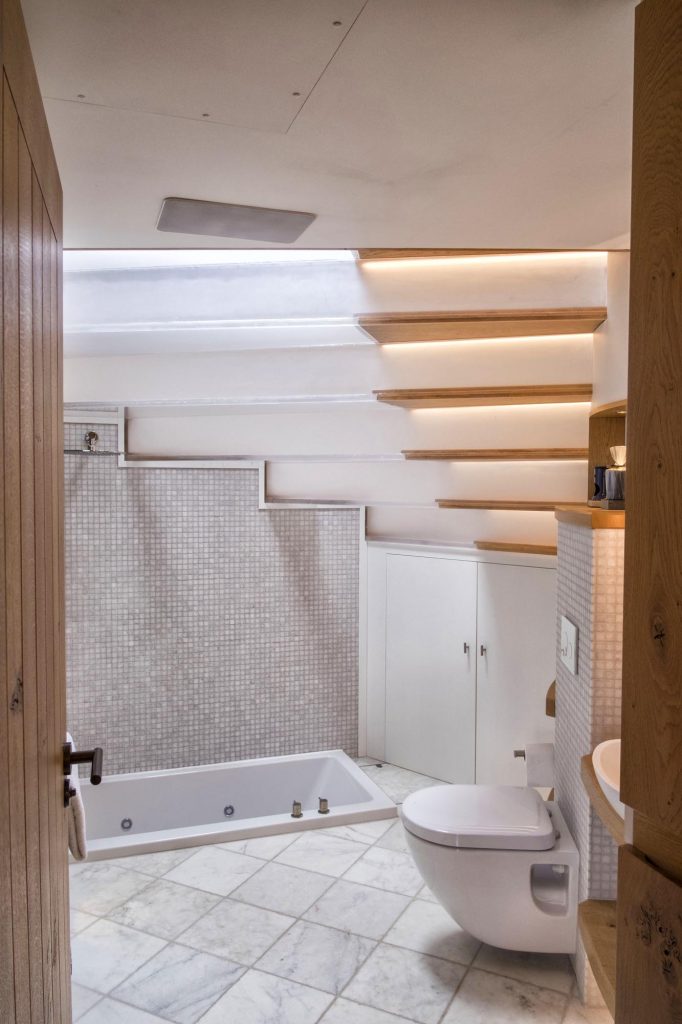 Another key benefit is how switchable technology offers privacy without compromising on your interior. It's sleek and minimalist nature makes it perfect for integration into both modern and traditional homes, even becoming a favourite for use in listed buildings as it maintains the appearance of the space in its clear state, whilst still offering the option of privacy at a moment's notice.
Using solutions like Switchable Double Glazing in your home can also provide economic benefits, with their improved thermal performance helping to better regulate room temperature. Switchable technology also reduces glare when turned off without the need to block the light out completely, keeping your space light and airy all year round.
The custom nature of this technology is only limited by your imagination, with homeowners constantly looking to push the boundaries of how Switchable Glass can be used around the home. From fitting Switchable Glass into furniture to creating stunning, sweeping curved Switchable Glass feature walls, the opportunities are endless!
---
Interested?
For a privacy solution that works aesthetically with any interior, Switchable Glass is the perfect option. With over 15 years of experience supplying switchable technologies to both the commercial and residential industries, Intelligent Glass prides itself on being able to bring visions to life, creating brighter and more distinctive spaces to live, work and experience, all over the globe.