Open Up to Switchable Glass Doors
2021 is already shaping up to be a very different year compared to 2020, with a sense of normality resuming across the UK and businesses finally reopening after a year of closure we can finally see the light at the end of the tunnel. With a new year as always comes new trends, and this year its out with minimalism and in with more layered eclectic spaces. Whilst open spaces and flexible working environments will be common in commercial workplaces, in the home, open floor plans are being swapped for more closed, private layouts with single purpose spaces.
Many people enjoy the atmosphere of an open space, but how can you achieve this with a floorplan that also offers privacy and the option of a more isolated space? Our answer is Switchable Glass. Switchable Glass, also known as Smart Glass or privacy glass, is a versatile technology that when switched off appears opaque but when an electrical current is applied, becomes transparent! We've seen Switchable Glass used in fascinating ways over the years in both homes and commercial spaces, with users opting for the switchable solution due to its flexibility. There are many ways that Switchable Glass can be used within your interior, but here we focus on how Switchable Glass Doors can enhance your space.
Statement Switchable Glass Doors
A full glass door has always been a bold style statement especially within the home, but with the trend comes the sacrifice of privacy. Often used to maximise the presence of natural light in hard to reach spaces, Glass Doors can make smaller rooms more usable but also more public. By opting for Switchable Glass, natural light is given constant access to your space in both its on and off states, with the ability to offer privacy at the touch of a button. We even offer an Acoustic Glass solution that provides not only visual privacy but also audio privacy, ideal for the increasingly popular home offices allowing you to stay focused but also keep an eye on traffic outside the room at any time.
In commercial spaces, existing glass partition systems can be upgraded with our retrofit Switchable Film, transforming any meeting room or office space into a more versatile space. The option of instant privacy offers an environment that feels safer and more confidential when necessary, as well as creating the illusion of an open plan, approachable office layout when the glass is switched on.


With industrial interiors trending, we also recently began to offer Crittall Style banded switchable glazing. Users are opting for this industrial style of glass in a huge range of environments, but despite how good these edgy, black framed glass walls look the reality is a very open, public space. By using Switchable Glass you get the best of both worlds, a modern, exciting space with a feature wall that can also offer you an isolated retreat.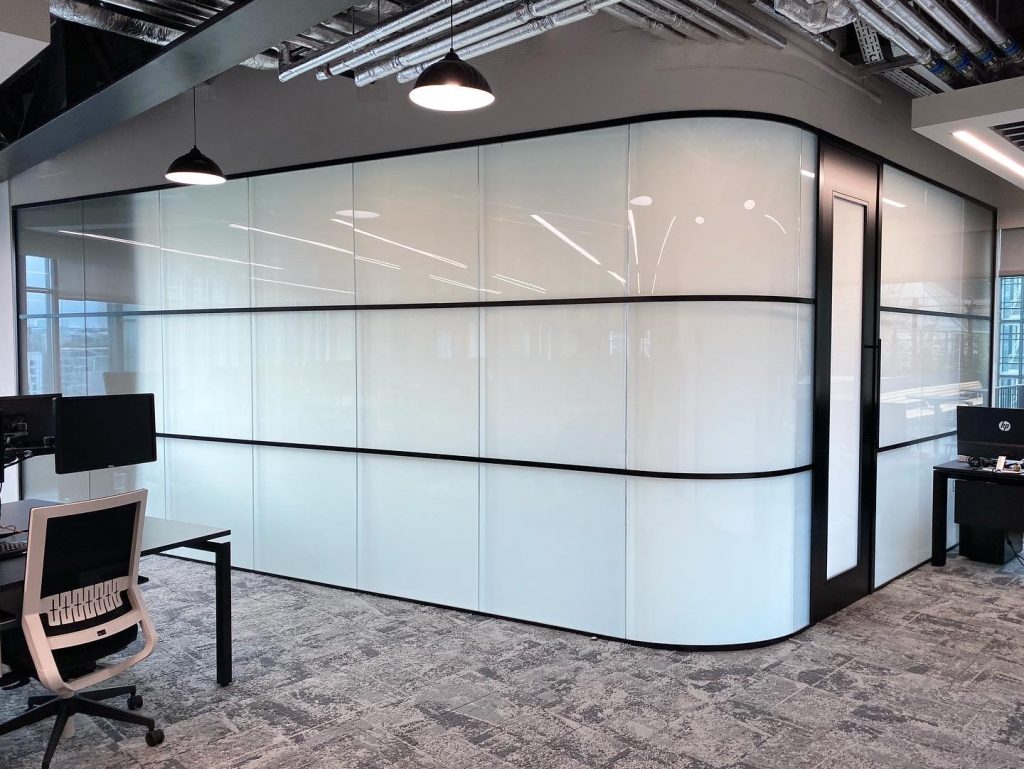 In recent years, bi-fold and sliding doors have become a staple of the modern home, often with bigger being better. Doing this has a long list of benefits from creating a multifunctional space that brings the outside in to simply appreciating the uninterrupted view from the comfort of your home. But again, these solutions often forfeit privacy. Although some lucky homeowners have the benefit of no neighbours overlooking their property, many new build homes experience the prying eyes of nosey neighbours.
Whilst obvious solutions like curtains and blinds are widely available, they take away from the impact of the doors themselves and can often appear clunky and cluttered. Our Switchable Glass and retrofit film options offer a sleek privacy solution that will only enhance your door system, offering a privacy solution that can be controlled with voice activation that even reduces solar glare, blocking out any harsh sunlight without plunging your home into darkness.


Switchable Vision Panels
With the office dynamic changing in many corporate workplaces after the impact of COVID-19, hot desking is set to be the new normal. This will leave many employees without a single assigned desk space, whilst at first this may seem chaotic, this style of working will be ideal for larger companies that do not require their full workforce to be present in the office every day offering a more accommodating office space day to day. By Integrating Switchable Vision Panels into existing meeting rooms and office doors, you can determine the availability of the room without having to disturb the occupant. These vision panels can be made in a range of custom sizes and are battery powered, meaning they can be installed with minimal disruption to the surrounding environments.

Switchable Vision Panels are also perfectly suited to use within residential interiors. Ideal for integration into your front door these panels let you see who's at the door without having to open it, adding an extra layer of safety to your home. We've also seen these panels integrated into internal doors, like playrooms, giving parents the perfect balance of supervision and independence for their children.


---
Interested?
There are many Switchable Door solutions on offer for both commercial and residential environments with specialist options including our Fire Rated Switchable Glass and our Coloured Switchable Glass. If you'd like more information on how you could use our switchable solutions in your next project, get in touch via the form below or call us on +44(0)1226 361 306.