Switchable Glass: Your Essential Questions Answered
Are you interested in switchable smart glass, but have some questions? We can help. 
Intelligent Glass is a leader in switchable smart glass technology. We've been developing our range of patented switchable smart glass products for over 15 years, and we're more than happy to help you understand what switchable smart glass is and what it is used for in the home or business premises. 
Here we answer the most frequently asked questions about switchable smart glass, including how it works and what smart glass can be used for.
What Is Switchable Smart Glass?
Switchable smart glass, often just called smart glass, is a type of glass that switches between see-through (like normal glass) and frosted (which can't be seen through) at the touch of a button.
The change in smart glass is instantaneous, like flicking a light on and off and adds a dramatic feature to any room. Smart glass allows you to manage light levels and privacy. The frosted glass can even be put to other uses, like serving as a projection screen (more below), making smart glass a versatile update to traditional glass.
How Does Switchable Glass Work?
Switchable smart glass contains a layer of liquid crystals within the glass. When smart glass is turned off, the crystals in this layer are randomly oriented and they scatter light that comes through the window making it opaque. 
When smart glass is activated, an electric current is passed through the liquid crystal layer, the crystals line up and allow light to pass through making the glass appear clear. This is why switchable smart glass is opaque when turned off and transparent when turned on.
What Is Switchable Smart Film?
Switchable smart film works in the same way as switchable smart glass, but it's an adhesive film that can be applied to existing windows or other transparent surfaces. This allows you to instantly transform your windows, skylights, partitions, acrylic screens, plexiglas, or other transparent areas into smart glass features.
How Is Switchable Smart Glass Controlled?
Smart glass is usually switched between opaque and transparent using a switch or button. However, you have other options – smart glass can be activated with a voice command or controlled via your phone or other mobile devices.  
Is Switchable Smart Glass The Same As Privacy Glass?
Yes. Privacy glass is another name for switchable smart glass. Other names include electric glass, switchable glass, liquid crystal glass, , and electronically controlled windows.
What Can Smart Glass Be Used For In The Home?
Switchable smart glass has a wide range of uses in the home. Smart glass can be used in external windows and skylights to help manage light levels and to balance privacy. 
This is only the start of using smart glass in your home however, as it also creates stylish internal partitions and can be used in walls and doors to bring more light into rooms. Our smart glass has also been used to create furniture, with our Switchable Toughened Glass used to create display cabinets and our Switchable Film in dramatic smart glass staircases. Sound insulating acoustic smart glass dampens sound to provide audio insulation. Smart glass even functions as a large, high-quality projection screen turning rooms into at-home cinemas.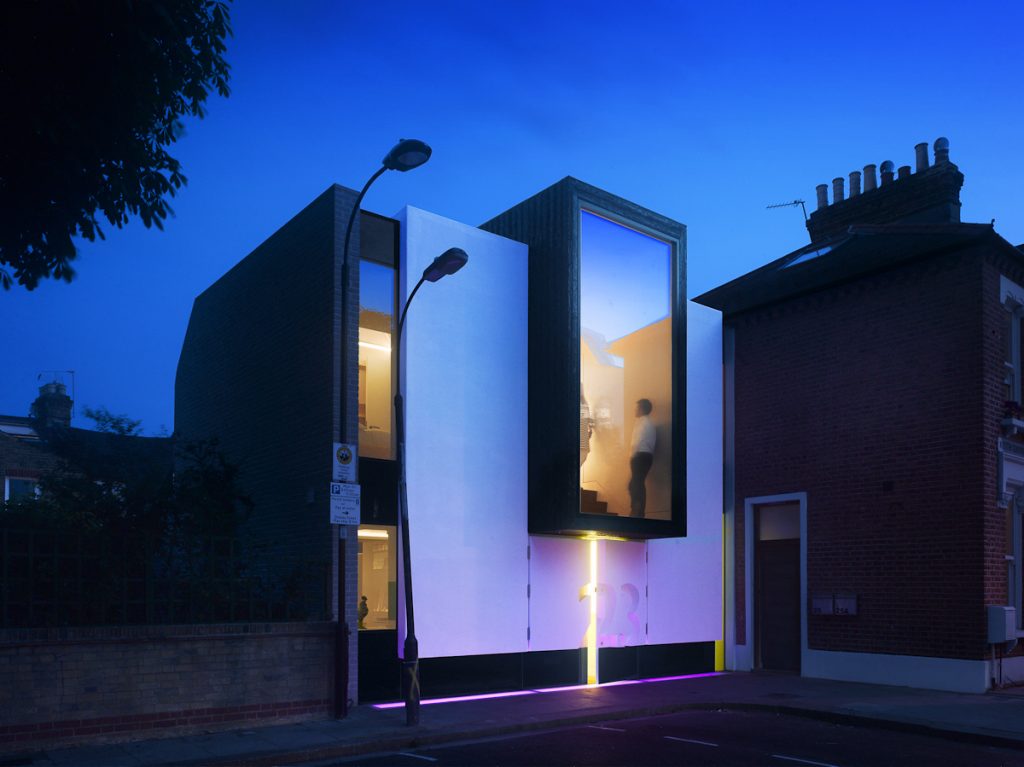 What Can Smart Glass Be Used For In Retail And Business Settings?
Switchable smart glass is an adaptable product with a wide range of commercial applications.
In office environments, smart glass can be used for external windows to manage light levels and energy budgets or can be used internally to create flexible working areas that are either open for teamwork or private for individual work. Smart glass also makes crisp, clear projection screens that transform presentations, ideal for office environments looking for a minimalist space saving solution. 
Smart glass is being put to creative use in hotels and other leisure areas to create unique experiences, including bathrooms in hotel rooms with smart glass walls, internal partitions that can function as projection screens, and stylish windows that don't require blinds or curtains.
In retail settings, smart glass is used to create large-scale impactful display areas, product reveal POS displays, and concept spaces that incorporate projection.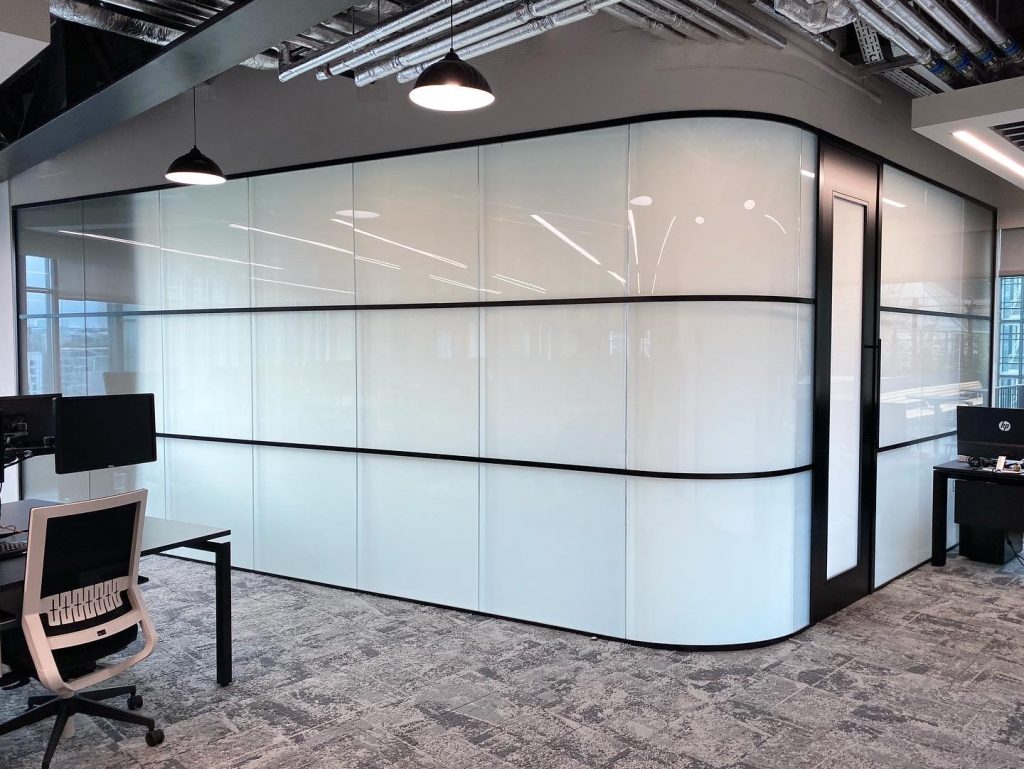 Does Smart Glass Have to Come In Certain Sizes?
We manufacture switchable smart glass in a range of sizes and dimensions with solutions available in up to 1.8 x 4m, and specialist solutions including curved and shaped glass. Contact us to find out more. 
Does Switchable Smart Glass Come In Other Colours?
Switchable smart glass is a frosted white colour as standard when opaque, but smart glass can come in a range of other colours. Coloured smart glass acts as a great feature piece, as seen in Japans public toilet overhaul, these panels are transparent with a coloured hue when turned on, but when turned off, switch to a more vibrant red, a blue, or a variety of other shades. Coloured smart glass offers a dramatic design feature that changes the look of any room. 
Can You Project Onto Smart Glass?
Yes. When smart glass is made opaque it can be used as a high definition, 4K quality rear projection surface, perfect for home cinemas, retail displays, or presentations at work. We can also offer Front Projection Switchable Glass screens, ideal for larger scale applications.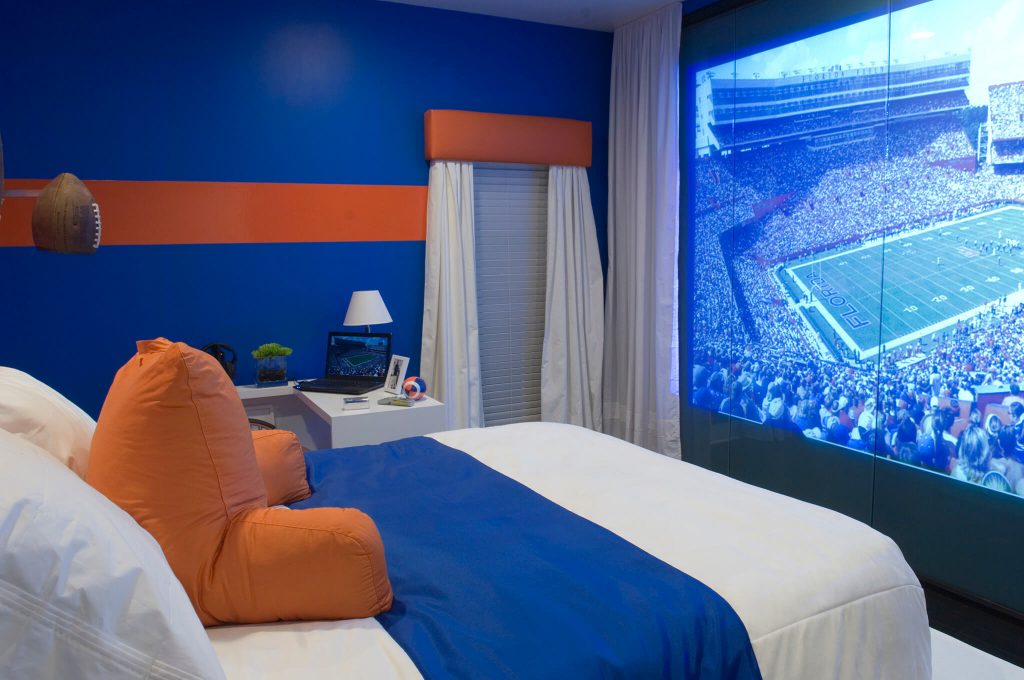 Can Switchable Glass Be Used Instead Of Curtains And Blinds?
Switchable Glass  has been used as a more modern replacement for blinds and curtains, offering a quick fix for harsh glare and direct sunlight without plunging the room into darkness. Our Switchable Dark solution is the closest switchable alternative to blackout switchable glass on the market. Designed for cosier areas in the home, Switchable Dark offers a grey tinted glass when turned on and an opaque dark grey surface when switched off. 
Can Switchable Glass Be Used With Double Glazing?
It can. At Intelligent Glass we manufacture switchable glass to make energy-efficient double and triple glazing. 
Can Switchable Glass Be Used In Doors And Floors?
Yes, smart glass can be reinforced and can be used in doors and floors to let more light into darker spaces and as a striking design feature. For specialist applications like Switchable Glass Floors, we work closely with the customer and the contractor to ensure our product meets all building regulations, structural standards, and safety requirements.


Can Switchable Glass Be Made Fire Resistant?
Fire safety solutions are regularly becoming a requirement in most commercial spaces, we manufacture fire-resistant switchable smart glass, giving you all the benefits of smart glass plus an added layer of safety. 
How Do You Clean Switchable Smart Glass?
In Switchable Glass products where the PDLC layer is sandwiched between 2 or more panels, you clean the glass in the same way you would clean any glass surface. For Switchable Film Products where the PDLC film is exposed, we only recommend using IPA wipes to clean the surface as using water or cleaning liquids could damage the film.
How Much Is Switchable Glass?
The cost of switchable smart glass will depend on a range of factors including the type of glass being used, how much glass is needed, the location, and whether additional options are required, like sound-insulating glass, fire-resistant glass, curved glass, or coloured glass. Contact us to find out more about our smart glass products and to ask for a quote. 
---
Find Out More About Switchable Glass From Intelligent Glass
If you have other questions about switchable smart glass that aren't covered here or would like to talk to one of our experts about specific requirements, please get in touch with us.