Creating Brighter Spaces with Switchable Glass
Lighting is key in the impact of any interior, drawing attention to textures and colours or even adding purpose to unusual spaces. Natural lighting can completely change how a space is perceived, with the ability to create warm and inviting environments as well as making spaces appear larger, this however is not always straightforward to implement. By using Switchable Glass, a wide range of design opportunities become more achievable due to its ability to offer privacy and natural light flow simultaneously.
With no power Switchable Glass appears opaque, creating a private space that still benefits from natural lighting, and when power is applied the glass switches to clear to provide a full field of vision on both sides of the glass. There are many places Switchable technology can be used around the home, but there are a few key applications where its impact is undeniable.
Smart Glass Windows
With Switchable Glass you no longer need to compromise between a view and privacy, with smart glass products offering both at the flick of a switch. Switchable Double Glazing is ideal for use in high-traffic areas of the home like bathrooms or kitchens, where the choice of privacy should never plunge you into darkness. As well as having improved thermal performance smart glass windows are an easy way to reduce uncontrollable glare and reflections from the sun, often allowing for more freedom with the layout within any home.


Switchable Windows are a great investment in the long term due to their ability to make your home more energy efficient. Our smart glass DGU panels are not only equipped with the same efficiency of a standard double-glazed unit but offer a higher level of insulation due to the incorporation of switchable glass technology. Our full switchable range of products can reduce any heat lost through glazing by up to 30%, helping your home to stay warmer for longer, and in the summer months even reduce glare and minimise solar heat gain by up to 40%.
Switchable Skylights
Though Switchable Skylights can offer necessary privacy from nosey neighbours whilst keeping your home light and airy, internal skylights are also ideal for enhancing basement and cellar environments. By strategically installing Smart Glass in the flooring of the ground floor, you create access to huge pockets of natural light to make these underground spaces more usable. When these underground spaces aren't in use, the glass can remain opaque but when the space is occupied, the glass can be instantly switched to clear to allow light from the ground-level windows to help the cellar feel larger and more welcoming.


Switchable Walls, Doors & Stairs
By opting for internal features like Switchable Walls or doors, you unlock a wider scope of potential within your space in comparison to using standard solutions. Using a Smart Glass partition to separate a bedroom and en-suite can be game-changing if a bathroom window cannot be accommodated, by making the most of the natural light entering through existing glazing. Switchable technology can also give a new lease of life to unused spaces like under the stairs, where previously, switchable technology has been used with glass stairs to create a luxurious bathroom space where you can even stargaze from the tub.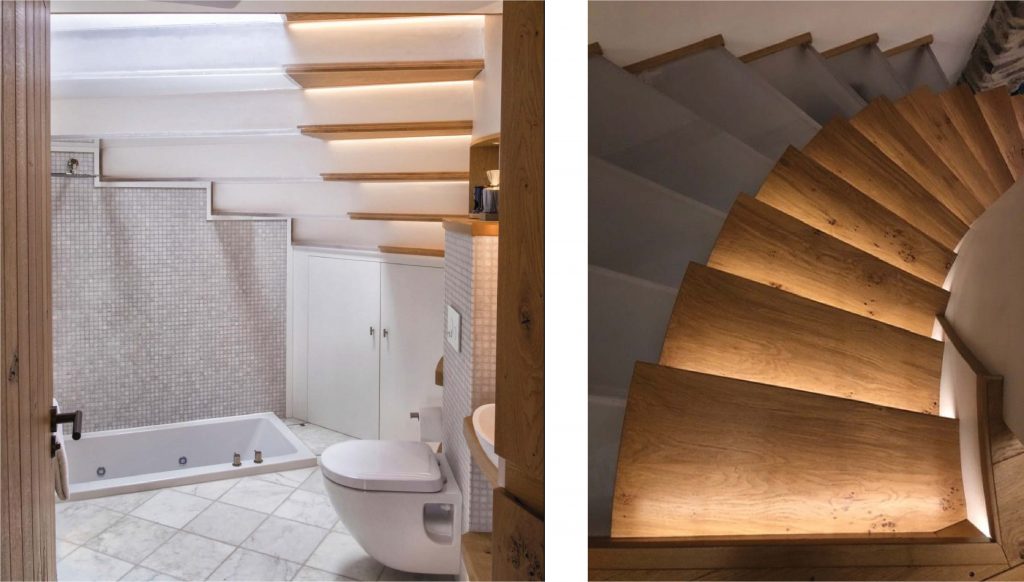 Opting for Switchable Glass features in key zones around your home can be the key to creating spaces that appear larger and almost certainly brighter. Switchable Doors can be a simple way to add natural light to small converted office spaces or pantries that require the option of privacy and visability.
Upgrade your existing Glass Features
If you're to achieve the benefits of Smart Glass without completely replacing your existing interiors, Switchable Film might be the right choice for you. Our Self-Adhesive Switchable Film can be easily applied to existing windows, partitions and even bi fold doors to create your own bespoke smart privacy solution. Our Smart Film is manufactured with a self-adhesive layer making it a more cost effective solution than our standard smart glass with minimal disruption and lead time.
---
Interested?
If you'd like to learn more about how switchable technology can be used to make your interiors appear bigger and brighter, get in touch via the form below or call us on +44(0)1226 361 306.