Product Focus: Switchable Double Glazing
We've been supplying our switchable technology to homes and businesses all over the globe for the last 15 years. Our technologies are incredibly versatile with the same products used in vastly different applications, like our Switchable Smart Film applied not only to the Windows of Harrods for an ambitious Rolls Royce Marketing effort, but also to the underside of a pool on a 125 million dollar yacht. Whilst there are many ways our smart glass can be used Switchable Double Glazing is a firm favourite in residential projects, here we feature everything you need to know about our smart double glazing.
What is Switchable Double Glazing?
Double Glazing from Intelligent Glass combines all the benefits of your typical DGU with the convenience of privacy on demand. We manufacture all of our double glazed panels in house, first bonding the switchable layer to the inner surface of a panel of glass before combining with a second piece of glass to create the sealed unit. All of our DGU's use a warm edge spacer bar and benefit from an argon filled air gap, offering better insulation and thermal performance. As well as acting as an energy saving solution, these units are frosted in their off state, switching to clear by the touch of a button, switch or even voice control!


Where can I use Switchable Double Glazing?
Our Smart Glass Double Glazing is simple to install and can be done so in the same way as any standard double glazed sealed unit. These Smart DGU's are most commonly used in place of external windows and glazing, available in single panel sizes up to a huge 1800 x 4000mm. Our Switchable Double Glazing is also frequently integrated into bifold and sliding door systems as well as conservatories and sunrooms where its thermal performance is most beneficial. We've also seen more unique uses of our double glazing in stunning skylight & glass roof applications, as well as being integrated into doors as a high-tech vision panel.


Our Switchable Double Glazing can also be manufactured in unique shapes to create eye-catching features in your home. Our technology provides potential for more extravagant glazing formats that can be truly appreciated, with our smart glass technology being a firm favourite for use in bathrooms that don't wish to permanently sacrifice their view in favour of privacy.


What are the benefits of using Smart Glass Double Glazing?
As well as the obvious thermal, energy saving benefit of using double glazing, our Switchable DGU's also reduce glare, diffusing harsh sunlight and reducing solar heat gain by up to 40%. Not only is switchable technology a more minimalist alternative to cumbersome blinds and curtains, it gives you privacy without making the room darker. Whilst turned off, the translucent state of our smart glass and film products allow a steady stream of light to pass through, illuminating your room whilst offering solitude.
The minimalist nature of switchable technology transforms the way glass can be used in your home, in areas it couldn't previously due to the need for both light access and privacy. One example of this is in the stunning 'Collard Towers' family home, where this self-build used two huge Switchable Double Glazed panels in their entrance hall. This stunning dream home was featured on Channel 4's 'Building the Dream', with our DGU's flooding the atrium with natural light throughout the day and the option for privacy at their disposal without ruining the aesthetic of the modern build.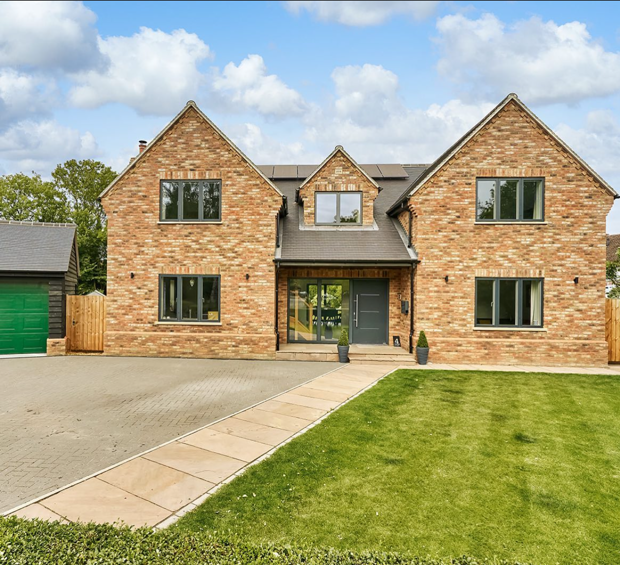 How do I know which type of switchable technology is best for me?
Nowadays, building regulations make it very difficult to accept anything other than double glazing being used for external windows, leading to new builds incorporating them as standard in all properties. If you're working on a self-build or need to replace existing glazing due to wear and tear, then our complete Switchable Double Glazed Units are for you. If you've recently moved into a new build or have perfectly good DGU's already in place, then our Switchable Film might be worth some consideration. Our Switchable Film comes with a self-adhesive layer, offering easy installation to existing glass surfaces, offering a less disruptive switchable solution with a faster turnaround. With this in mind in higher traffic areas of the home, like bathrooms, we would recommend opting for a finished DGU solution where the Switchable Film is sealed from the elements.


We can also offer enhanced Switchable Double Glazing solutions including products with acoustic and fire resistant properties, as well as units more catered to an aesthetic criteria like our Coloured Smart Glass and Switchable Dark.
---
Interested?
If you'd like more information on how our Switchable Double Glazing ca be used in your home or would like more information on our range of smart glass products, get in touch via the form below or call +44(0)1226 361 306.