How to Use Switchable Glass in Any Office
When it comes to offices it's no one size fits all, especially after the effects of the COVID-19 pandemic. In recent years, many businesses had already made the move to abolish the expected dynamic of the office workplace, following the likes of pioneering companies like Google, Shopify and Airbnb. However, the global pandemic has forced us all to reassess how we use our offices, with many spaces being left completely empty whilst employees were forced to work from home. As we navigate our way through what we hope is the return to normality we must ask ourselves, how can we build an office space that works for the new normal?
Almost all 50 of the UK's biggest employers said they do not plan to bring staff back to the office full time and as well as this, many employees have been open about their lack of motivation to return. Despite this, one in four bosses have claimed staff working from home are less useful than when in the office, with there also being a concern about how working from home over an extended period may well be eroding the mental wellbeing of employees. Offices are now expected to become dynamic environments able to accommodate hybrid working, in order for businesses to keep leasing costs down and employee morale up. But where to start when creating a more flexible workspace? We believe Switchable Glass offers the perfect starting point. Whether you have multiple floors or a single studio space, Switchable Glass offers a key interior feature that's both stylish and practical.
Using Switchable Glass in Smaller Offices
With less space comes less privacy, but by throwing up stud walls to provide more isolated workspaces your space can easily feel overcrowded and uncomfortable. Whilst glass walls are a great way to maintain the feel of an open plan layout, they provide little to no privacy. In their off state, Switchable Glass Partitions offer the benefit of privacy, but when powered on turn clear allowing you to see directly into the enclosed space. Whilst ensuring your privacy when turned off, our switchable technology still allows natural light to come through without the often-annoying harsh glare from direct sunlight, keeping light and airy conditions around the clock which is proven to enhance the mood of employees.


Smaller spaces often require some clever thinking when it comes to fitting in all the essentials. Our Switchable Glass can also double up as a 4K/HD rear projection screen, saving you the trouble of finding spare wall space to support a standard tv or projection screen.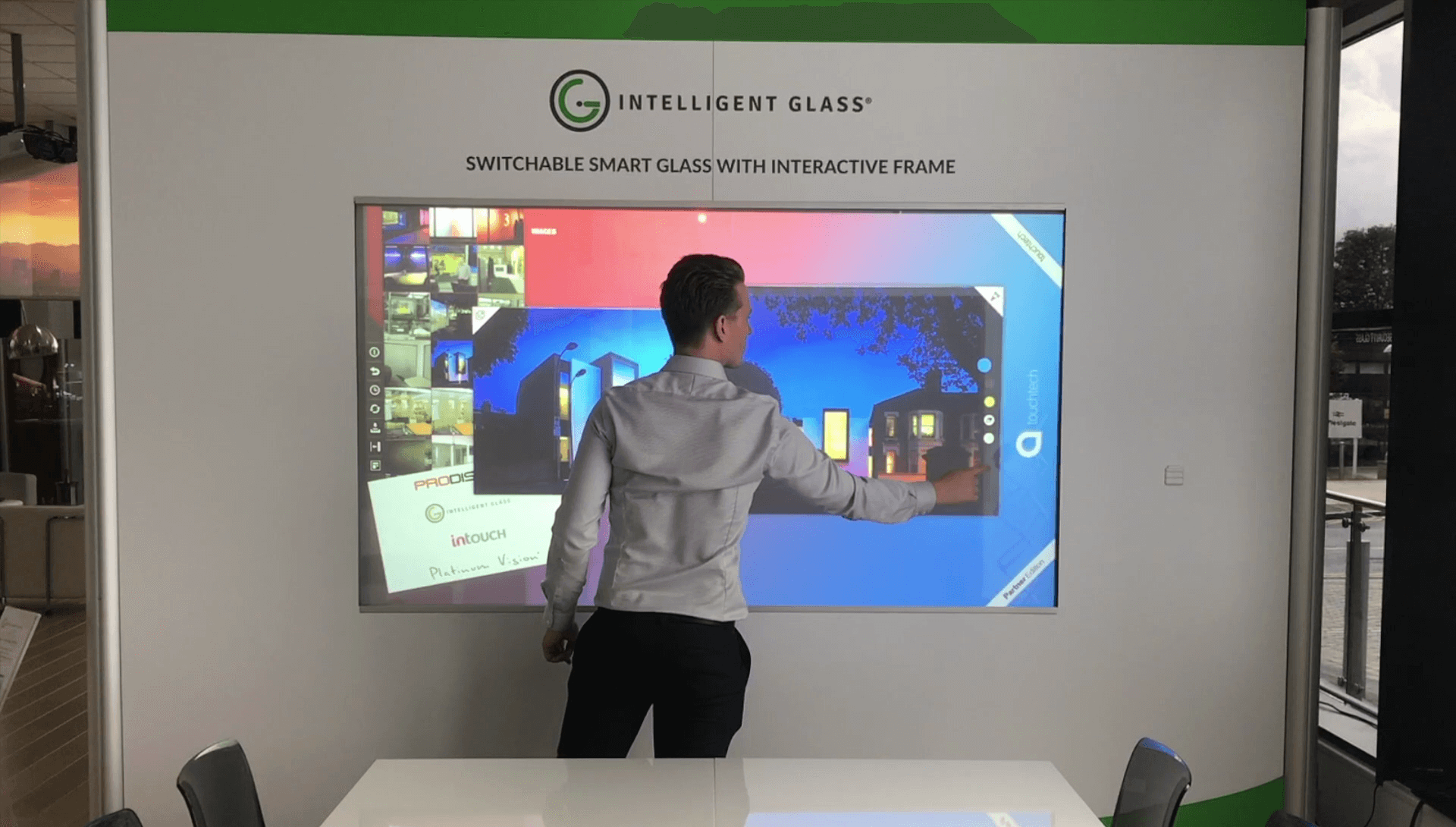 Smart Glass in Corporate Offices
Corporate offices are all about appearance, from hosting potential clients to staying ahead of the competition, first impressions in these environments are incredibly important. Whilst these workplaces have an abundance of space, Switchable Glass partitions can still find a home here due to their wow factor, connecting easily to voice assistants like Amazon Alexa, making switching partitions as simple as "Alexa, turn on my glass". We offer more specialist smart glass wall systems meant for more interior focused applications like our Crittall style partitions. Designed to mimic the popular industrial glazing craze, our products offer the same 1920's era style with the added benefit of privacy. We also offer Curved Switchable Glass that is often used in meeting rooms and collaborative workplaces, fitting in perfectly with the interiors of creative agencies and other modern office environments.
With more people around, total privacy is of even more importance as well as safety. We can offer
sound insulating switchable glass
to ensure complete audible privacy as well as visual, ideal for the offices and meeting rooms of decision makers and CEO's. In many office environments its now a requirement to use fire rated glass, our
switchable alternative
has been used in offices all over the globe, from full partitioning systems to
switchable glass doors
.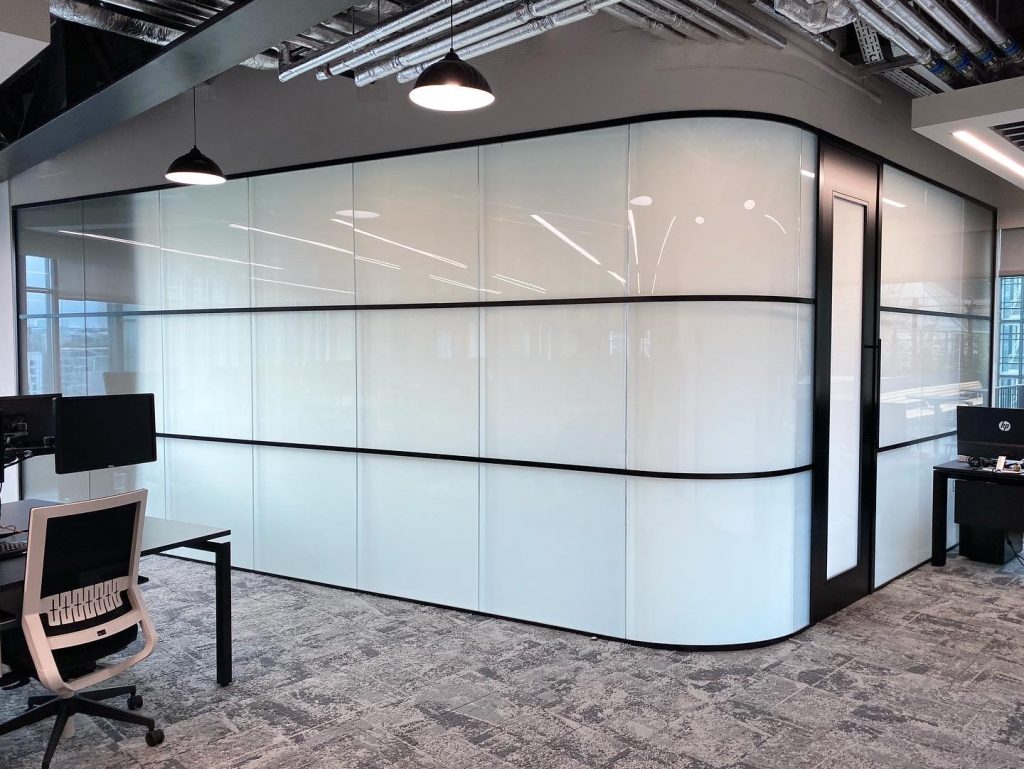 Switchable Glass in the post-COVID workplace
If hot desking and hybrid working is in the future of your business, you must consider how to best use your space for this flexible style of working. Whilst many will be excited to be back from a collaborative and social point of view, others are likely to want the solitude they have become accustomed to whilst they work. Our Switchable Vision Panels can be installed in any existing door with little to no disruption to the environment. Working independently of mains power, these battery powered panels allow you a peak into the room at the touch of a button, without disturbing the occupant.

In larger spaces, smart glass is becoming a popular feature in office pods. These snug structures offer a cosy place to focus on your work, keeping the switched glass off if you need some quiet time or have a conference call, and switching the glass to clear when you're open to discussion or just fancy a change of scenery.
If quick turnaround and budget is a concern, our retrofit switchable film product can be easily applied to any existing glass surface. Switchable film transforms existing windows, doors and glass walls into more versatile interior features, giving employees the power to control their environment to create a more comfortable and pleasant place to work.
Our switchable technologies are also favoured by the healthcare industry, with us providing a privacy solution that can be easily cleaned and maintained, reducing the opportunity for germs and viruses to spread. This can be reduced even more by connecting to a voice assistant rather than using more traditional methods like remote controls and wall switches.
---
 Interested?
If you'd like to discuss how our switchable technologies could be used in your office space, get in touch via the form below or call +44(0)1226 361 306.