Voice Activated Switchable Glass
Reach a new level of convenience, style and simplicity, as we make it easier than ever for you to activate our products
Amazon's 2017 Prime Day was a game changer for bringing home and office automation to mainstream attention. Amazon announced not long after their 2017 Prime Day that they had sold 7 times more Alexa Dots than they did in 2016. With sales figures like this, it is no surprise that experts forecast Amazon's family of voice controlled speaker devices to command a whopping 70% of their market.
Recent years have seen a multitude of virtual assistants emerge, from Microsoft's Cortana and Apple's Siri, to Google's Assistant and Amazon's Alexa, tech giants from all specialities are throwing their hat into the ring to compete in this booming market. What this demonstrates rather quite well, is that this is a big deal. What makes this race extremely important is that these companies are not just competing on the quality and effectiveness of their product, but they are also fighting to be the first to bring it to people's homes.
After the disappointing failure of Google Glass a few years back, the industry learned that consumer taste for new technology can be as brittle as it can be fickle. Bio-tech interfacing is now moving away from deeper integration with the human body, to focusing on superficial haptic technology, seeing such technology relegated to a safe distance perched on your wrist.
Interestingly, voice activation has arguably been a victim of just this effect, being a technology that has been widely available on mobile devices for almost 2 decades now. However, until now, this technology has generally been inconsistent and unreliable, now exciting consumers when it works as well as contemporary assistants do.
This growing trend of virtual assistants has an inevitable correlation with the demand for smart home and smart office voice activation and automation products. As our homes and offices begin to adopt such technology in their droves, it opens up exciting new potential applications and uses of existing technology that we may have never even considered otherwise. Switchable smart glass (Intelligent Glass) is one such product. Intelligent Glass is a futuristic technology that even without automation, is as simple as a light bulb to operate. It serves by providing instant switchable privacy at the press of a button, and as we have found over recent weeks, a simple voice command. It is not only able to be integrated with voice controlled speaker devices, but it excels in such an application.
Intelligent Glass products work as excellent additions to top end hi-tech environments. This is particularly prevalent as smart home and smart office technology takes off. By adding a voice activated dimension to switchable technology, it pushes the limits of just how impressive it can be. Wow your guests and visitors like never before as you utter the slick phrase that commands your glass to switch state from clear to frosted, and vice versa. Reach a new level of convenience, style and simplicity, as we make it easier than ever for you to activate our products. The applications for this winning combination of cutting edge technologies are endless, from switchable glass stairs, to simple partitions and projection screens, the capabilities are as flexible as your creativity. As part of an effective automation system, you can watch as your office, living room, bedroom or bathroom springs to life, with switchable technology playing a key role in your window privacy or even the privacy screen of something like your shower. You can have even more control during company presentations, as you command your switchable projection screen to activate without having to leave your seat, or even move.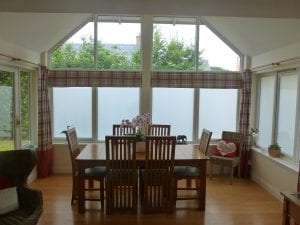 People all over the world are already adopting this extraordinary technology, from offices to homes, there is so much you can do with our voice activated products. One of our recent projects saw voice activated switchable film installed in a residential environment. Chris, the end client of this application comments,
"We were looking for a product to provide some extra privacy in our dining room, as we have large windows which face other properties. We had investigated other films (mirror and tinted) but none were suitable as they blocked too much light. I then found Switchable Smart Film from Intelligent Glass."
He adds,
"The team at Intelligent Glass were very helpful, explaining the benefits of the product and also providing advice about DIY fitting of the films to existing windows. Now we have the films installed, they are a great success. Installation was quite straight forward with easy to follow instructions. Being able to switch between clear and frosted in an instant means that we can have the view when we want it but also the privacy when required, without reducing the light in the room. Thank you to the team at Intelligent Glass for your help and advice, we are so pleased with the results."
Don't miss out on this incredible leap forward in smart technology. Get in touch today to discuss options with our team about home and office voice activation with your switchable product.
---
Interested?
Intelligent Glass offers a wide range of switchable smart glass solutions with options including toughened glass, laminated panels, smart glass windows and the retrofit self-adhesive switchable film.
If you would like further information, a pricing quote, or to discuss ideas for using our switchable smart glass and smart film products, please get in touch using the form below, or call us on +44 (0)1226 351 759.