Using Switchable Technology in a Retail Environment
Whilst we've seen a huge increase in demand for Switchable Glass and Film products in the home over the last couple of years, this residential popularity shouldn't overshadow the inventive ways our technology can be used in commercial environments. In the retail sector, there are plenty of ways switchable products can be used to enhance the customer experience, encouraging brick and mortar shopping. We've worked with some of the world's most prestigious retailers over the years including luxury department store Harrods and renowned car manufacturer Mercedes Benz, both showcasing the potential of using switchable technology. Here we look at how we can take inspiration from these high-profile projects and apply it to a range of retail environments for a better instore experience.
Switchable for Privacy
With online shopping being easier than ever, one of the key benefits of shopping instore is being able to try "before you buy" on the spot. But with this being one of the few things left that sets visiting the store in person from browsing online apart, why are fitting rooms still so neglected? Fitting rooms are a turning point at which a consumer decides whether to complete a purchase, yet many retailers are still using unflattering lighting and heavy, stain prone curtains, making for a less than favourable fitting environment. A research institute study showed, around 75% of customers will try on clothes in fitting rooms in retail stores – yet more than 40% of these customers leave the fitting room without buying anything. When asked why, the majority of those questioned claimed that they particularly disliked the unflattering lighting in the fitting room.
By swapping out creaking doors and tired curtains in favour of Switchable Glass Doors, you can create a more appealing environment that's bound to drive up sales. Switchable Glass allows light to pass through both when turned off and on, allowing the changing area to benefit from external lighting as well as the controlled light source in the cubicle. Using Smart Glass Doors in changing rooms not only creates a more flattering setting for trying on clothes but adds an air of luxury and refinery to the space, in comparison to the common setup. This is especially important for stores offering higher priced goods, as keeping these spaces touched up and on trend creates a fitting experience that reflects the price tag, making them feel more inclined to complete a purchase.


We also offer alternative switch glass technology targeted at more aesthetic applications, including our Curved Switchable Glass and our Coloured Switchable Glass, perfect for venues with a heavy focus on interior styling, designed to create a memorable trip and encourage repeat business.
Switchable Window Displays
Window displays have always been a space for competition, with major high street stores battling neighbouring brands for attention and smaller businesses vying to tear consumers away from the retail heavyweights. Whilst perfect for privacy, our Switchable Film can also be used as a 4K/HD projection display when turned off, with the screen 'disappearing' when the film is turned on. This clever use of smart film technology is most commonly styled in two ways: out of hours advertising and product reveals.
If you're situated on the high street, surrounded by other big brands, your window display should be designed to stop traffic and outdo the competition. Harrods did this perfectly, by applying our self adhesive Switchable Film to their main windows and projecting a countdown onto the film to grab the attention of passing traffic. This clever marketing exercise in partnership with Rolls Royce also used a timer, which was linked to the film in order to change the glass from frosted to clear when the countdown reached zero to reveal the Rolls Royce Dawn. Whilst cars from Rolls Royce are generally show stopping, the same concept could be applied to technology stores, fashion outlets and other storefronts to gather momentum around new season collections and hot off the market products.
 Many shops spend more time closed than they do open, so why not capitalise on this time by advertising outside of hours? Outlets on main roads or streets that are prone to high levels of traffic when the store is closed are ideal candidates for seeing the benefit of applying
Switchable Film
to their windows. Whilst open to the public, the film can be switched to clear to offer an unrestricted view inside and out of the building and when closing time comes, the film can be turned off and projected onto with promotional videos to continue reinforcing your brand. Alternatively, this could also be beneficial to smaller, local shops who can sell this sought-after advertising space to other local businesses.
For smaller or more elusive retailers, using Switchable Film on your windows could also be a theft deterrent. As seen in luxury jewellers Anil Arjandas in Mayfair London, whilst they projected advertisements on the film outside hours this also meant the contents of the store was hidden from the outside, offering an additional theft deterrent when the store was unoccupied.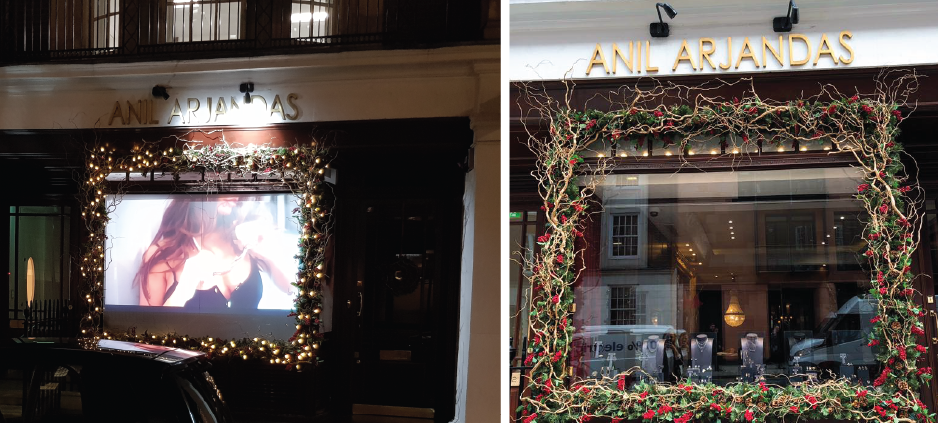 Switchable POS Displays
There's just something about the use of a display case that makes the object inside look more important and appealing, so what better way to build intrigue than with a Switchable Display Case! Space depending, these could be used in a similar way to Harrods' product launch, but more commonly they utilise a similar concept to our Switchable Vision Panels. For a portable solution, we can create Switchable Display Cases that are controlled by button and powered by a battery pack, offering a peak into the case when pressed. For a more permanent Switchable POS Displays, our smart glass can be connected to Amazons Alexa as well as controlled via remote or wall switch.


---
Interested?
If you'd like more information on our Switchable Glass and film products or would like to discuss more ideas about how our technologies can be used in retail, get in touch via the form below or call +44(0)1226 361 306.