4 Ways to Enhance Your Privacy at Home
It sometimes feels like privacy is harder to come by than ever before. With so many intrusions into our personal lives—whether over screens or on our doorsteps—our privacy at home can sometimes feel like it is under threat each and every day.
But there are plenty of solutions to enhance your home privacy, both in the real and digital world. Here are four effective changes you can make today.
1. Upgrade your Bathroom
For years it has become the norm to install frosted or obscured glass in your bathroom, primarily with privacy in mind but with a hint design influence with textured glass rising in popularity. Opting for this kind of solution is all well and good but in reality, you are denying yourself of the main reason windows are used- the view. By upgrading your bathroom windows with Switchable Glass, you can have the best of both worlds, benefitting from more natural light flow and a view with privacy at the touch of a button.
Using Smart Glass is a great way to maximize the amount of natural light entering your home, which is why we see it frequently used as a partition wall or door for en-suite bathrooms. Typically, these spaces are small and devoid of natural light, due to homeowners being discouraged by the costly job of integrating additional windows. By swapping a stud wall or door for a Switchable Glass system, you can make the most of the existing light source in the bedroom, stretching it into the en-suite space without compromising on privacy or breaking the bank.


2. Use smart home tech to your advantage
In-home, smart technologies help consumers outsource their most monotonous tasks to the cloud: programming the washing machine, turning the heating on automatically – ready for when you get home from work, and even controlling your smart glass!.
Our Switchable Glass and film range is fully compatible with home automation software and smart speakers like Amazon's Alexa and Google Assistant. Before the innovative creation of voice activation software, our glass was restricted to wall switches, remote control and old-fashioned timers but is now as simple as "Alexa, turn on my glass!" By using smart home tech in conjunction with your Switchable Glass the capabilities are only as flexible as your imagination, controlled without even lifting a finger, instant privacy has never been so easy.
3. Incorporate Privacy Glass (or Switchable Smart Film) into your home
We're all familiar with tinted windows: coloured glass that permanently obscures the vision of onlookers trying to peer through it. While this certainly achieves the goal it was created for, it's slightly impersonal and impractical. Despite being favoured by businesses, having permanently tinted windows might give you privacy but it certainly won't make your house feel like a home.
However, the advent of Switchable Smart Glass (aka privacy glass) blends transparency with privacy, offering a unique and previously unthinkable degree of flexibility in creating additional privacy at a moment's notice. The versatility of Switchable Glass allows you to use your home in ways you couldn't before, from eliminating the need to choose between a view or privacy to making the most of your space with natural light.
Our Switchable Smart Film offers a cheaper, easier solution for those who don't want to replace their existing windows. It's manufactured with a self-adhesive static cling layer, meaning it can be easily applied to existing surfaces without any length or complex installation process.
Privacy glass and Switchable Smart Film offer a two-in-one solution. You can easily have a transparent and inviting home environment—while being able to instantly transition in the click of a button to an opaque, frosted glass that ensures complete privacy.


4. Switchable Smart Glass Vision Panels
The quest for privacy doesn't simply stop at your front door. As many of us find ourselves sharing a home with flat mates or family members, a private moment for yourself can be just as difficult to find inside your home as it is out. Another home privacy upgrade rooted in smart glass technology is the switchable vision panel, a door port window that provides instant privacy or transparency to any room at the touch of a button.
Utilising the same privacy glass technology as above, these windows can instantly transition between an unpowered state of frosted glass to crystal clear glass that allows light and transparency back into the room—without intruding or disturbing the occupants. Powered by two double A batteries hidden inside the door, Switchable Smart Glass Vision Panels offer ease-of-use and an affordable price point for those who can't seem to catch a moment for themselves when they arrive back home.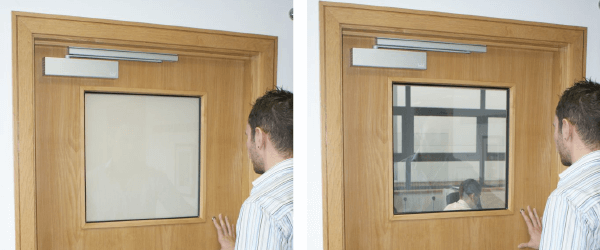 The privacy prerogative
Privacy doesn't have to come from one single source—indeed, peace of mind is rarely achieved so simply. Try incorporating one, two, or all of these tips into your home to transform your privacy. Privacy doesn't have to feel overwhelming, by making small changes around your home you can instantly make yourself feel more comfortable by using smart technology to your advantage, making your day to day life that little bit easier.
You have a right to privacy in your home—so it's time to treat privacy like a prerogative. Looking to transform your interior design and enhance your privacy in the process? If so, get in touch with a member of our expert team to discuss your needs in further detail—we can't wait to hear from you and to get started on your project.