Intelligent Glass Takes to the Seas
Whilst Switchable Glass is rapidly appearing more often in smaller residential properties, prestigious brands and high-end homes still can't get enough of Smart Glass Technology. Despite brands like Bloomberg and Harrods pioneering Switchable Glass and Film into the public eye several years ago, this savvy trend is showing no sign of fading away from high-end environments any time soon.
Over the years we've worked with many esteemed brands, even supplying Rolls Royce for the launch of their Dawn Drophead Coupé at Harrods, providing Switchable Film to cover their windows; one of the most exclusive advertising spaces in the world. We've also done our fair share of luxury residences, including Number 23, the award-winning home designed by Matt Architecture, who used our Toughened Switchable Glass as a striking focal point at the front of the property. However, this year we faced a first for us, with Intelligent Glass completing their first project for Switchable Film on a Yacht.
This summer, we were a part of the huge multimillion-dollar refurbishment undertaken on the 125-million-dollar vessel, the C2 super-yacht. The refit included an extended aft deck, a new healthy-size swim platform and restyled transom, but most impressively, a new pool with switchable capabilities. The yacht previously measured 78 meters, but post refurbishment has grown by over 25 feet, making the mega yacht a mammoth 86 meters long.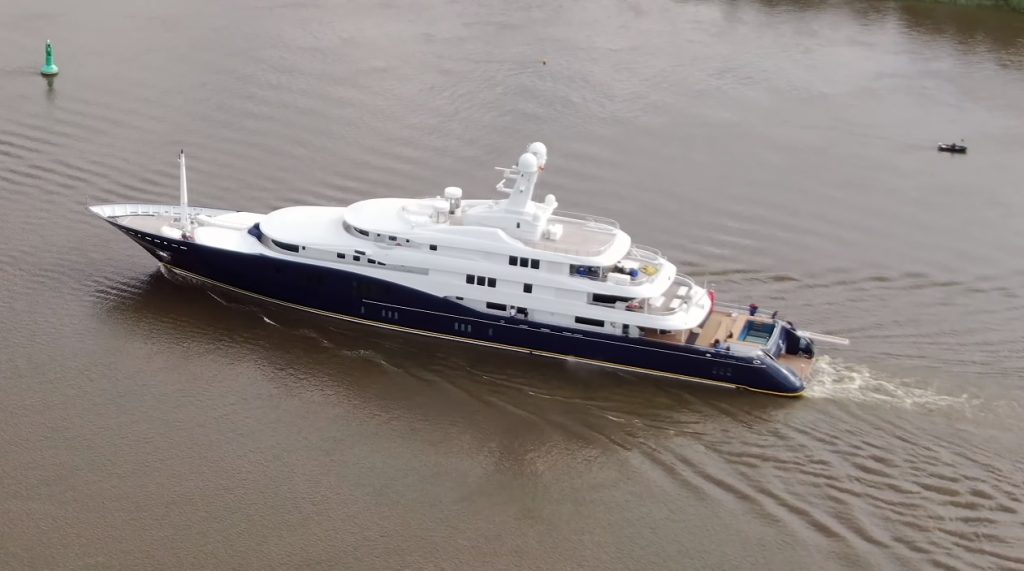 The project was to supply and install our Self-Adhesive Switchable Film onto the underside of the swimming pool on board the yacht. The pool is cleverly situated over the bedroom on the vessel, with the switchable technology requested to create a unique option of privacy when necessary, whilst still allowing an abundance of light into the room. Over a three-day period, the Switchable Film was applied to the underside of the pool; the install was particularly tricky and required expert know-how and experience to get the finish expected in such a luxurious environment.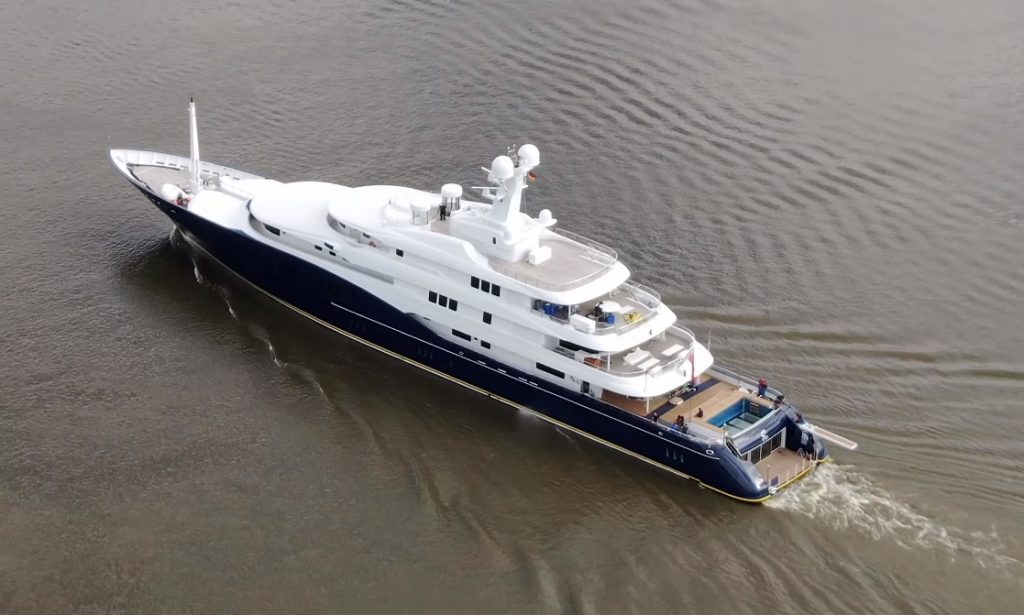 With over 15 years of experience in Switchable Technology, Intelligent Glass rose to the challenge; the film had to be installed over head within a recess on the underside of the 5m x 2m luxury pool floor. The installation team completed the install a day quicker than planned to an incredible standard; the Self-Adhesive Film looked pristine, integrating perfectly within the luxurious environment. The C2 yacht opted for the remote-control option to switch the film, granting them the ability to control their privacy from up to 25 meters away.
There are many ways switchable technology can be integrated into a luxurious yacht, not just as a premium swimming pool floor! Our Self-Adhesive Switchable Film can be applied internally to any existing glass surface, a perfect alternative to tinting for privacy purposes on deck level windows. As well as added privacy for your luxury vessel when docked, Switchable smart film technology offers a UV stable and environmentally friendly solution reducing solar heat gain by up to 30%. Switchable Glass can also act as a cutting-edge divider between living areas, allowing light to pass through uninterrupted when frosted yet opening spaces when switched to clear in a way that normal portioning would not allow.
Intelligent Glass are dedicated to keeping on top of the trends, we are constantly pushing boundaries to keep on top of the ever-changing market. We pride ourselves on the versatility of our technology, with our Switchable Range doubling up as more than just a means for privacy, but as a HD/4K rear projection screen. Not only can you use our Switchable Glass and Film as a high-quality projection surface, we also offer the option of touch capability to make the glass surface interactive. On top of it's amazing multi-use capability, our Switchable Glass and Film are also compatible with virtual assistants like Amazon's Alexa or Google Home, making any home a smart home!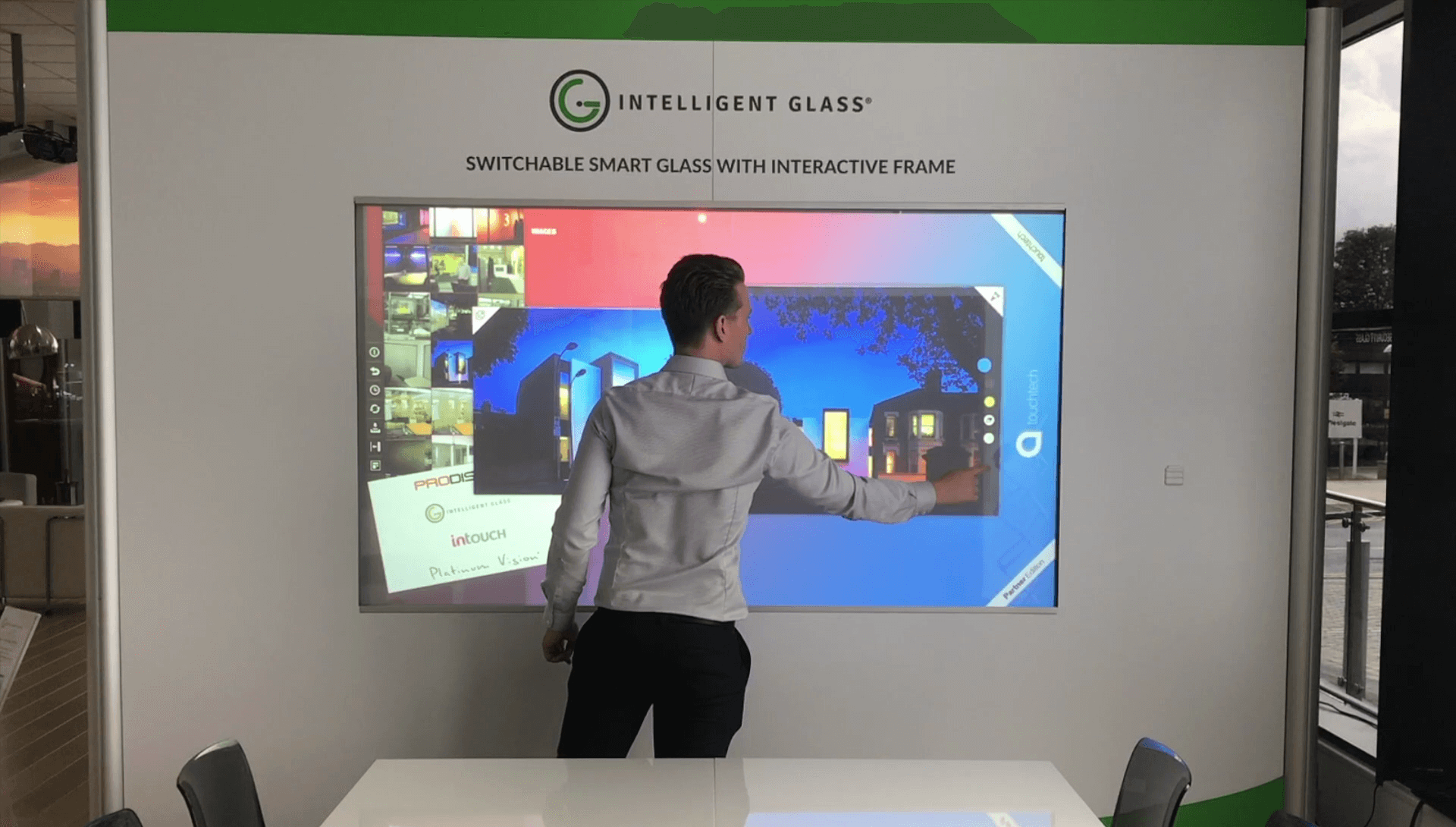 Our variations of Smart Glass technology cover a huge range of applications, with us recently starting to offer Coloured Glass, Curved Smart Glass and for those grander ideas, Large Format Smart Glass Panels manufactured up to 1800 x 4000mm in size.
---
Interested?
If you've got a project in mind or would like further information on how we can integrate Switchable Smart Glass or Film into your space, please get in touch using the form below or call us on +44 (0)1226 351 759.