2021's Biggest Interior Design Trends
If any one year has taught us the value of good interior design, it's 2020. As we were all confined to our homes for months on end, outdated corners of our rooms stood out starkly—forcing us to rethink, redesign, and renovate.
That's why 2021 is such an exciting time for interior design. Here, we list some of the hottest interior design trends set to hit in 2021—and tell you how you can get in on the action.
Switchable Smart Glass Skylights
Having a skylight can completely change a room's feel. Not only do they let in natural light, but they also open the room up—making it feel far more spacious than before. An opening above your dining room can give you the feeling of eating underneath tree canopies, while a skylight above your bed can make you feel like you're sleeping under the stars.


However, there are certain drawbacks, such as a lack of privacy. This is highlighted particularly in urban residential environments, where houses of varying sizes mean that one of your neighbours may end up inevitably looking right into your home from above. At Intelligent Glass, we've solved this problem thanks to our Switchable Smart Glass Skylights, that allow homeowners to transform their skylights from frosted/opaque to clear at the simple press of a button.
Showstopper Stairways
Most interior design experts agree that staircases are often neglected as part of a home revamp, largely because people simply think of them as purely functional. However, they can be much more than just something you use to get between floors. 
Not only are they a powerful potential storage solution, but they can also become a showstopping feature in your home. For example, our Switchable Smart Glass Stairs transformed a barn conversion—making it effortlessly chic and stylish.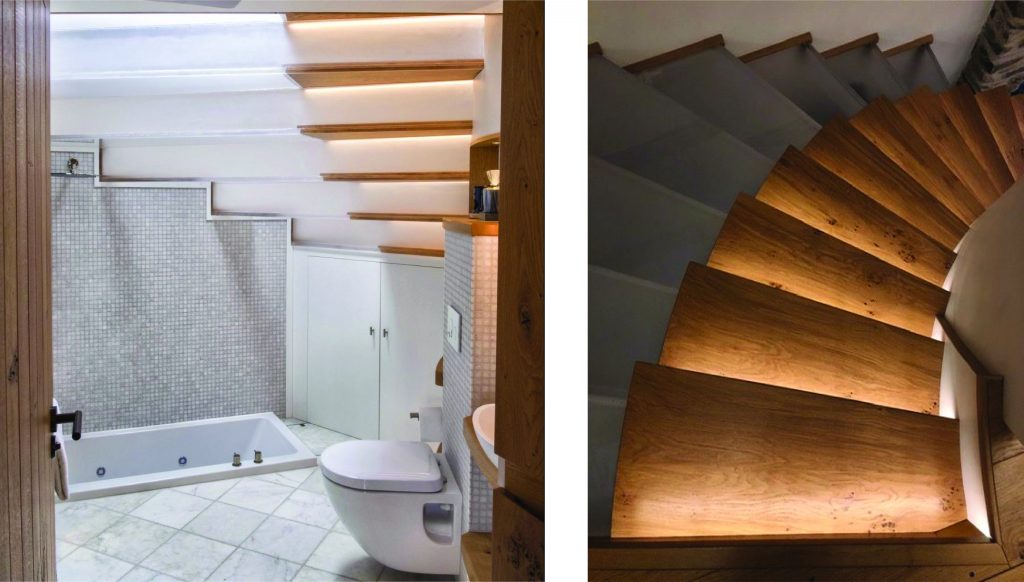 The owner knew they wanted a unique architectural feature to accent their home, and they decided that a glass staircase was the answer. However, the positioning of the staircase (over the master bathroom) posed a unique design challenge. Using Switchable Smart Glass offered a fantastic solution, creating a stunning modern staircase that lets natural light into the bathroom nestled under it, while also providing much-needed privacy as and when needed. 
What's more, the design team behind the stairs have integrated voice activation into the build—enabling the stairs to switch between clear and frosted through voice control. If this project doesn't inspire you to make daring design choices with the traditionally overlooked aspects of your home, we don't know what will!
Modern but immodest: the glass bathroom 
Luxurious hotel suites often feature glamorous standalone tubs. Modern interior design has taken a cue from the age-old tradition of the luxe standalone bathtub by blurring the lines between the bathroom and the bedroom. Now, with glass partitions, you can integrate your en-suite's interior design into that of your master bedroom (and vice-versa).
But what about those looking for privacy? With our Switchable Smart Glass technology, you can transform your bathroom from opaque to transparent in an instant—allowing for complete privacy when needed.


The four seasons in your home
Conservatories are another 'bringing the outdoors in' trend that people just can't get enough of. Also known as 'four seasons rooms', they're great places to kick back and enjoy the views of the outdoors, no matter the weather. Their exposure to the elements does, however, pose some challenges. Glass-panelled walls and ceilings are particularly vulnerable to extreme glare and overheating. The first issue defeats the purpose of providing a relaxing, natural light-filled oasis while the second is a health and environmental hazard. 
Having a Smart Glass Conservatory can solve both these problems. By adding double glazed Switchable Smart Glass or retrofitting our Self Adhesive Switchable Smart Film onto existing conservatory glass, you can reduce solar heat gain by about 30%.
---
Get in touch to get the look
We hope this blog has piqued your curiosity and got you thinking about how to transform your interior design in 2021. If you're looking for more inspiration, or are ready to get started right away, then get in touch to speak to one of our experts.