Self-Adhesive Switchable Smart Film
Product Overview
Intelligent Glass Self-Adhesive Switchable Smart Film for retrofit applications on windows and internal glazing
---
Designed to retrofit to existing transparent surfaces, Self-Adhesive Switchable Smart Film by Intelligent Glass provides a simple and cost effective alternative to other switchable glass film technologies.
It is manufactured with a self-adhesive cling layer on one side (peel and stick) which makes it easy to apply to both new and existing glass (no specialist installation equipment required).
A simple ON - OFF mode switches the film from being clear (transparent) to frosted (opaque). In its frosted state the film acts as an electronic blind providing privacy and security for any glass, window or partition.
Self-Adhesive Switchable Smart Film is available in two standard widths 1000mm (38.6") and 1200mm (47.3") and can be cut to any size. Custom shapes and sizes are available and multiple pieces can be joined together to create large switchable glazed panels or partitions.
This unique film technology also transforms any glass into a high definition rear projection screen allowing you to display corporate presentations, TV images and videos.
A truly innovative product making switchable glass film technology accessible to everyone while giving your home or business the added WOW factor.
---
Self-Adhesive Switchable Film

Power - 50VAC

Frequency - 50/60Hz

Current - 0.1 amperes per m2

Power - 7 watts per m2

Switching - less than 1 second

Operation - (on) transparent (off) opaque

Thickness - 0.7mm

Light transmittance - On (75%) Off (67%)

Haze Coefficient - On (7%) Off (87%)
Tested over 3 million switches

High temperatures - >70 degrees C (over 14 days)

High temperature / humidity - >50 degrees C / 95% RH (over 14 days)

Cold temperatures - minus 20 degrees C (over 14 days)

UV filtering - 99% (within 1 year)
Self adhesive film (peel and stick)

Custom cut sizes (per linear metre)

Sheet sizes up to 3 metres (118")

Film widths 1000mm / 1200mm

Simply apply to glass or plexiglas

Suitable for permanent or temporary applications

UV / solar protection
Privacy / security glazing

Windows / glass partitions

Sky lights / vision panels

Counters / furniture

Conservatories / sunrooms

Electronic blinds / doors

Video projection screen

Smart Film Installation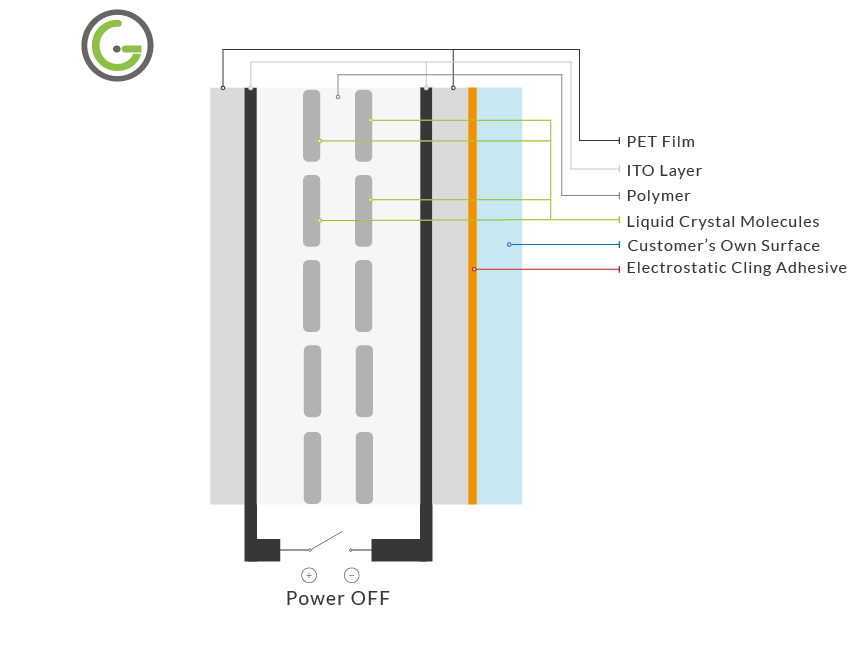 We ship worldwide – if you want further information, a pricing quote, or to discuss ideas for using our switchable smart glass and film products, please complete the form below or call us on +44 (0)1226 351 759.
Why Choose Us?
Intelligent Glass has been specified by some of the world's leading brands.
Want more reasons why you should choose us? View our brochure to learn why you should choose Intelligent Glass.