Abigail Reynolds' Sculpture 'Between' at Coventry Cathedral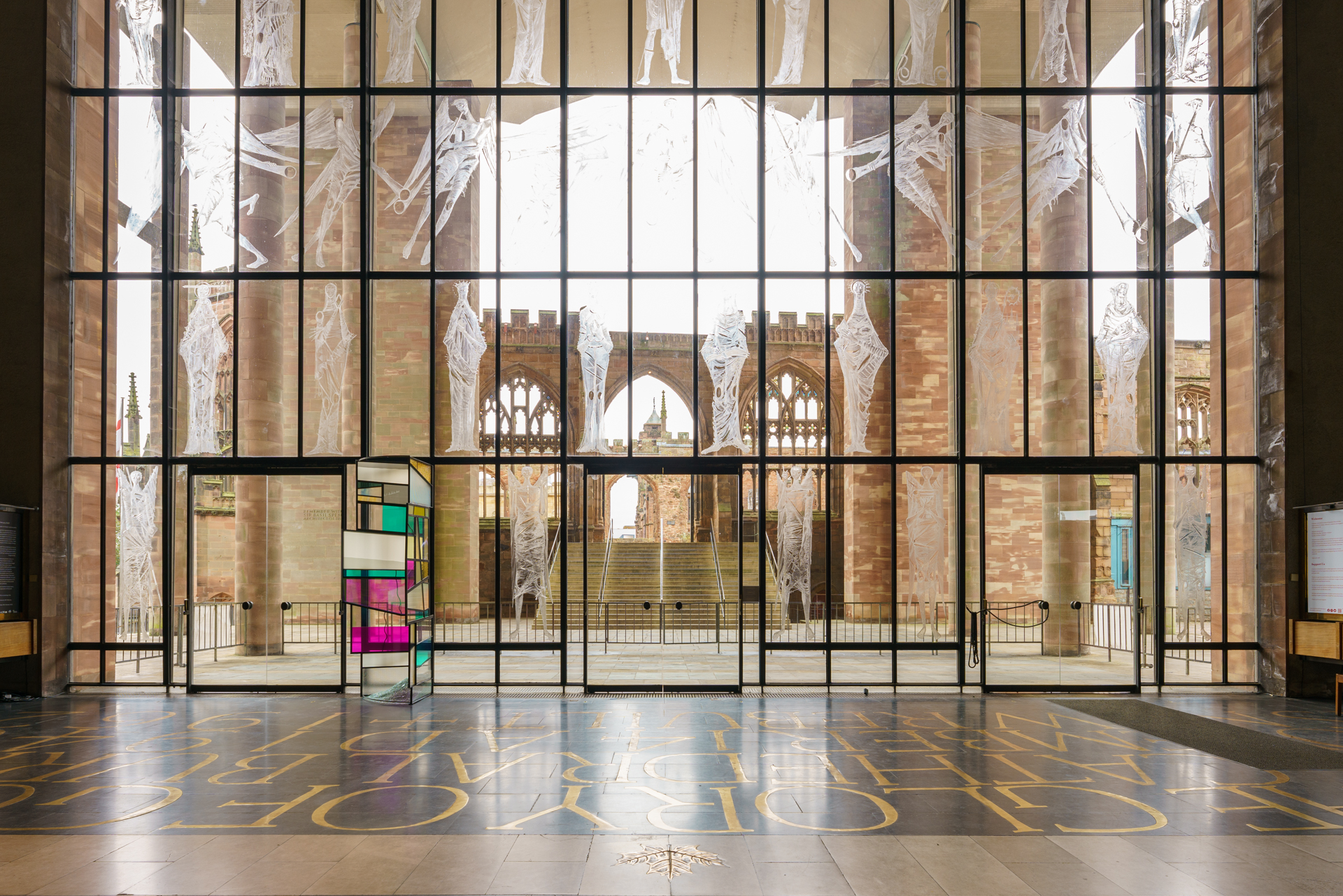 Abigail Reynolds is an award-winning British artist who works with glass, books and photography. She has a studio in St Ives, Cornwall. She is one of the artists invited to create new work for the Broken Angel project at Coventry Cathedral.
The Broken Angel project is a series of artistic responses to the vandalism of one of the panels of the West Screen of the Cathedral in January 2020. The panel, titled The Angel of the Eternal Gospel, was shattered beyond repair, leaving an empty space in the glass wall that separates the new and old cathedrals.
Between is a free-standing glass and steel sculpture set against the window where the Angel of the Eternal Gospel once stood. Reynolds says: "The sculpture alters with the light, and is animated further when you move around the work as the colours blend and change. As well as glass, contemporary window films are used in the work, including a "switchable" film which shifts from transparent to opaque white when an electric current is applied. This cuts off then restores the view though the glass; the visual equivalent of a door opening and closing. In my sculpture I am thinking of the shafts of light which pierce the sacred space of the cathedral. They make slanting shapes on the tapestry wall, like opening doors that move with the light".
The sculpture is composed of tinted & textured glass, including mid-century Pilkington's glass, self-adhesive switchable smart film, window vinyl and a black galvanised steel frame, and uses a timer and electrical supply.
Reynolds' work is inspired by the idea of an opening door as a portal to a different plane of consciousness. She says: "The broken panel showed a traditional image of an angel in human form. In my work Between, I imagine an angel simply as an opening - an angel represents a temporary portal to a different plane of consciousness."
Reynolds' work is part of her ongoing exploration of glass as a material that can reveal hidden histories and connections. She says: "Glass is a material that can be both transparent and opaque; it can reflect and refract light; it can be fragile and strong; it can be shaped and shattered. It can also hold memories and stories, as books or photographs do. I am interested in how glass can create new ways of seeing and understanding the world."
The Broken Angel project is curated by Mike Tooby, along with the Cathedral's own arts and events team. It is supported by Arts Council England, Coventry City Council, Coventry UK City of Culture 2021 and The Friends of Coventry Cathedral.
Reynolds also showed other glass works within the Cathedral, relating to the book in the hands of the broken angel, and creating a way to find different points of contact in the spaces of the Cathedral. More of her work, and contact details regarding commissions can be found on her website.
Website: abigailreynolds.com
Instagram: @abigailreynoldsartist