Intelligent Glass Drives Innovative Supercar Garage Design

High-end residential projects are not uncommon for Intelligent Glass, often being called on to supply the Switchable aspect of both small and much larger scale luxury home refurbishments and upgrades. Such projects are always an enormously rewarding undertaking. In our role as one of the UK's leading manufacturers of Switchable Smart Glass products, we are often impressed with the end result of the ever increasing applications of Switchable Smart Glass around the home, offering an effective, premium privacy and projection solution to style conscious homeowners all around the world.
A recent residential project we were involved with was for a very special residential project that truly puts meaning behind the sentiment that we are continuously impressed with the applications of our Switchable Smart Glass technology in the home.
The project itself used a Switchable Smart Glass Bi-Fold Door system as a hi-tech alternative to the traditional garage door often seen in residential properties. Dwarfing motorised or even automatic opening garage doors as an impressive arrangement, a bi-fold garage system is a clever solution to this large door requirement, allowing the occupant and proud owner of this home to make the most out of the benefits this installation can bring.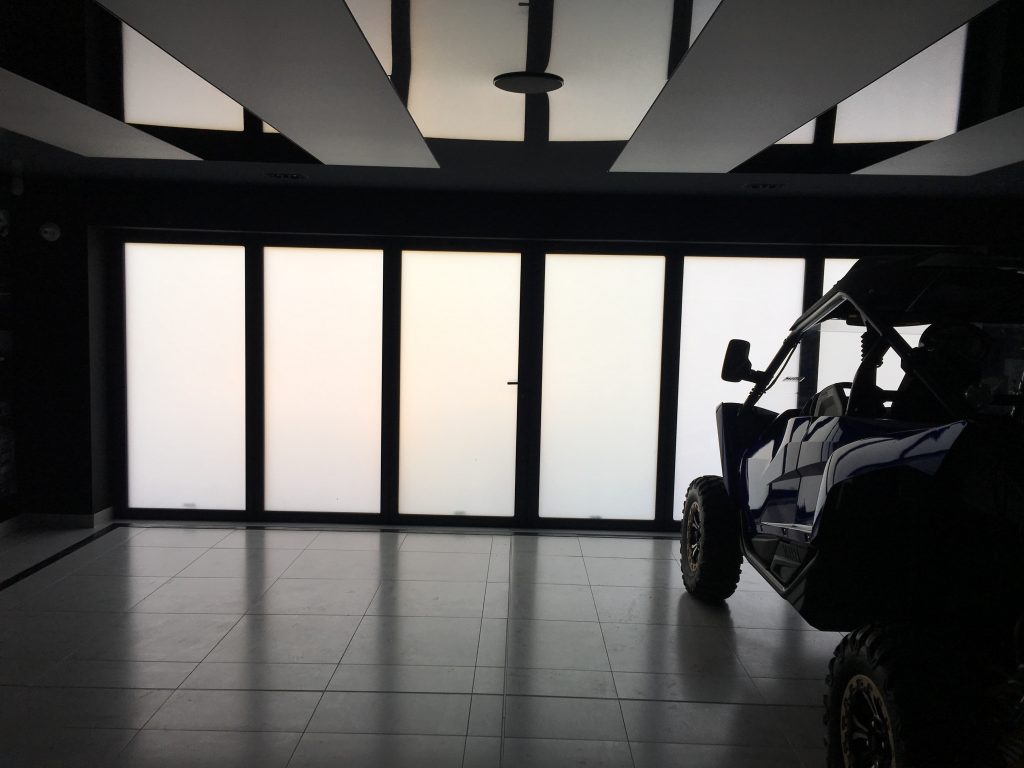 Now for the style; this is no ordinary garage. What garage uses state of the art Switchable Smart Glass Bi-Fold doors as an entrance? The answer is as incredible as you may suspect. This garage also serves as a showcase garage for high-end prestigious cars, including a Lamborghini and Rolls Royce, with the space having been decorated and styled in a deliberate way to compliment and show these luxury vehicles in the best way possible.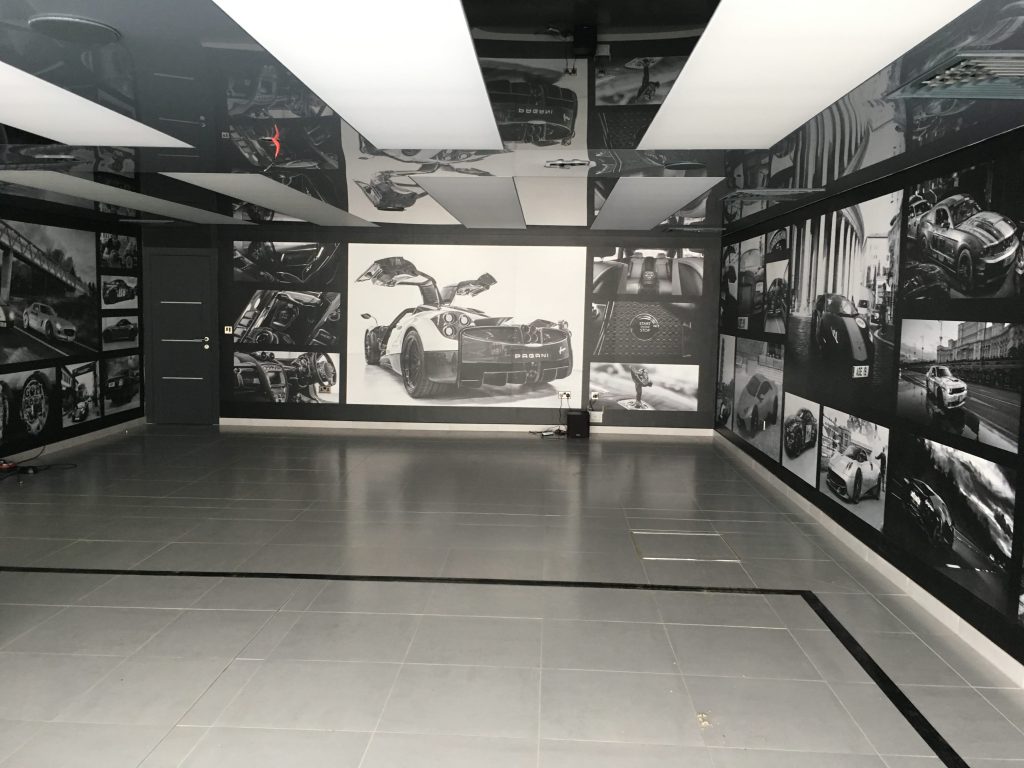 This isn't the first time Switchable Smart Glass has been used to show off high end cars. Recent years have seen the use of Smart Glass to publicly launch new additions to ranges from Rolls Royce and Jaguar, as well as being installed in car dealerships such as in Mercedes World in product reveal applications to enhance the sales experience of customers.
With how well Switchable Smart Glass works with luxury cars from a stylistic point of view, it is a fantastically fitting design choice to use Switchable Smart Glass Bi-Fold doors as the entrance of a garage that has been built to showcase and home such high-end vehicles.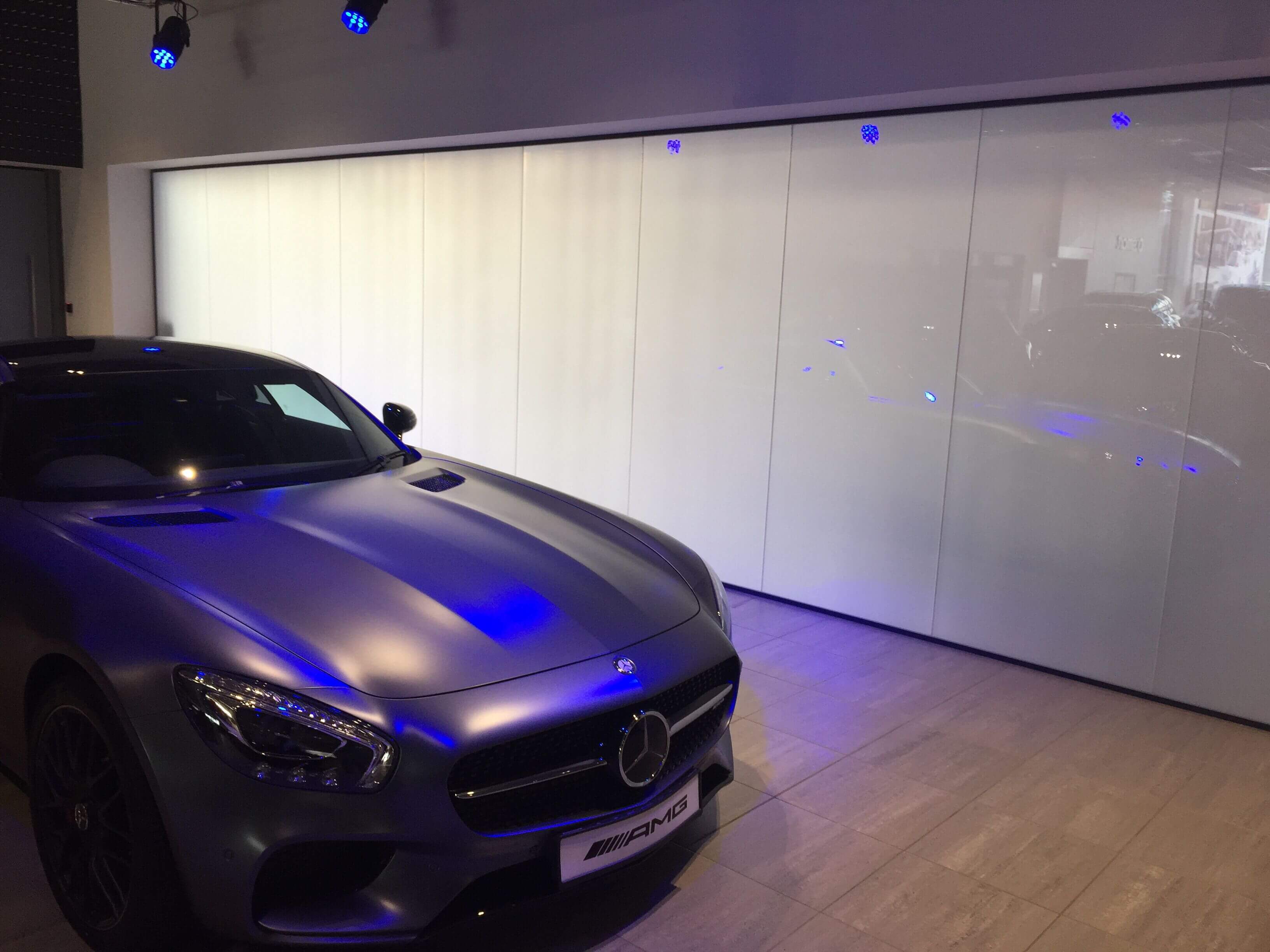 This minimalist yet hi-tech approach is an incredible privacy solution that amazes. Comprising of 6 Switchable Smart Glass Double Glazed Units (DGUs) that were housed in the homeowner's own bi-fold door frames, the entire entrance door switches from frosted to clear via remote control that can be operated from up to 25m away. These Switchable Smart Glass Bi-Fold doors offer the ideal solution that provide visual privacy on demand, so those with nefarious motives will be unable to see what the glass is hiding behind it. When the homeowner is looking to show off their pride possessions, they are able to switch the glass to clear to unveil their masterpiece – ideal to impress if guests are round.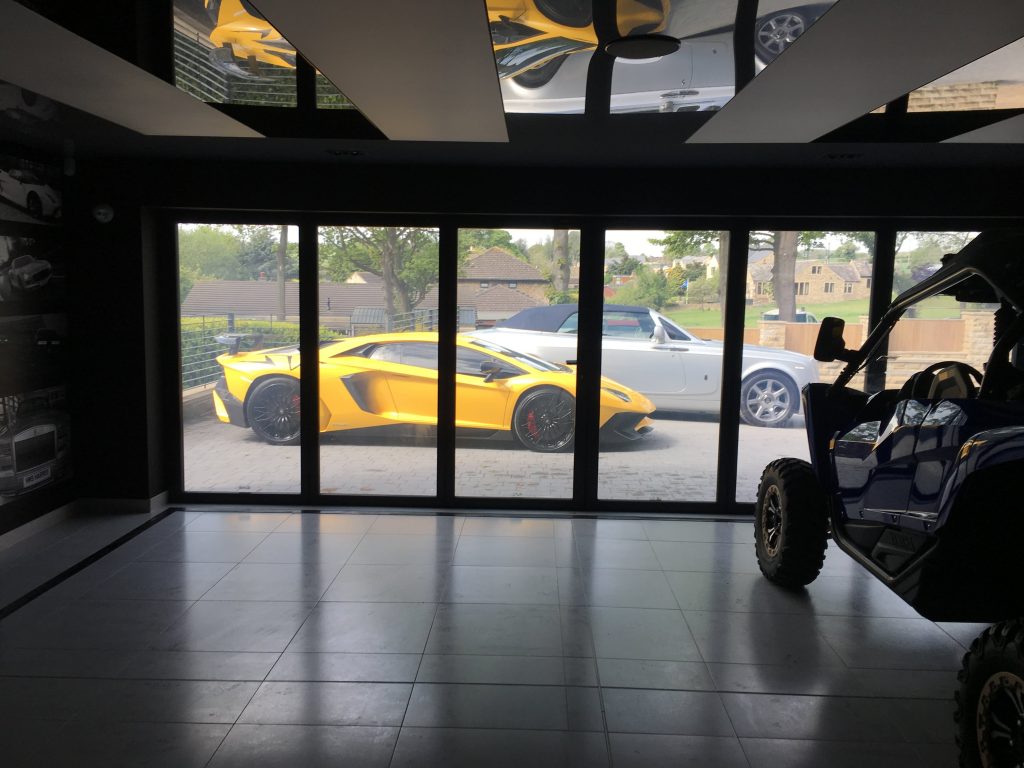 The innovative use of bi-fold doors are a stroke of real class in this application, allowing the entrance to open up enough to fit these all-star vehicles in. Bi-fold doors, by their very nature open more than their traditional singular counterparts. The beauty of this application sees this glass transform from a closed off, secure and private entrance, to being opened right up in 2 ways; the Switchable Smart Glass DGUs can either switch to clear, allowing visibility, or fold in to each other to allow for a much wider access point than a traditional single door could provide.
There is simply no better way to compliment these super cars than with this hi-tech enclosure entrance. Indeed as discussed previously, even car dealerships use this same technology to enhance their sales and marketing efforts. With this in mind, it is little wonder that this project impressed us.
---
Interested?
Intelligent Glass offers a wide range of Switchable Smart Glass solutions with options including Toughened Glass, Laminated Panels, Smart Glass Windows and the retrofit Self-Adhesive Switchable Film.
If you would like further information, a pricing quote, or to discuss ideas for using our Switchable Smart Glass and Smart Film products, please get in touch using the form below, or call us on +44 (0)1226 351 759.