How Switchable Technology can benefit the Construction and Property Industries
UK switchable technology manufacturer, Intelligent Glass, are helping to change the face of the British property construction industry with a range of products that are designed to put your space right on the forefront of cutting-edge design. It is often understood that in today's world, technology can enhance a space beyond what has traditionally been possible, bringing the wonders of convenience and style to our fingertips like never before. Putting you more in touch with your environment, Intelligent Glass manufacture switchable privacy products that can be controlled by remote control from up to 25m away, including switchable glass and retrofit self-adhesive switchable film. Importantly in today's market, most of our switchable technology can also be integrated into Smart Homes and Offices, allowing control via voice or a mobile device.
Thanks to the industry-leading manufacturing facilities we proudly enjoy, we are able to manufacture specialist switchable glass options including
coloured switchable glass
,
sound insulating switchable glass
,
fire resistant switchable glass
and even
double-glazed units
, allowing for even further uses in design and construction applications.
Assigning this glass exclusively to simple window privacy would be a mistake, however – it's much more than that. Switchable technology's versatility is as impressive as its effect, allowing for such options as switchable laminated safety glass, both ideal choices for areas where glass safety is a concern, such as busy spaces, play rooms or even bathrooms. The incredible use of the switchable privacy effect in a bathroom can be used for a range of things, from entire room privacy to shower door privacy, making switchable technology a truly impressive and stylish option.
What's more is that its applications are not just consigned to walls or partitions. Alternative and creative uses of switchable technology are cropping up constantly and recent years has seen us take part in some of the most jaw dropping applications the world have ever seen, from switchable glass stairs to switchable glass floors.
Combined with further Pro Display technologies, switchable glass can even be turned into a 4K rear projection touch screen, a perfect choice for office meeting rooms or educational applications, allowing users to hide the screen when required or double up as a window or partition privacy solution. Indeed, the discretion of switchable technology is also one of its biggest advantages to the construction industry; serving as a transparent screen as well as an invisible privacy solution, this incredibly powerful technology satisfies a variety of common design requirements that traditional solutions may not satisfy as efficiently – certainly not as stylishly.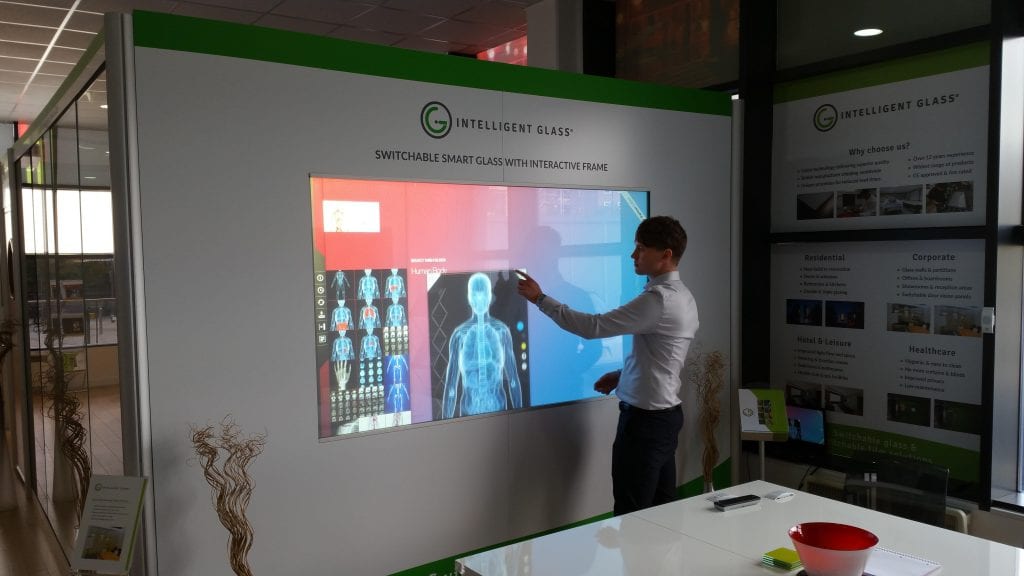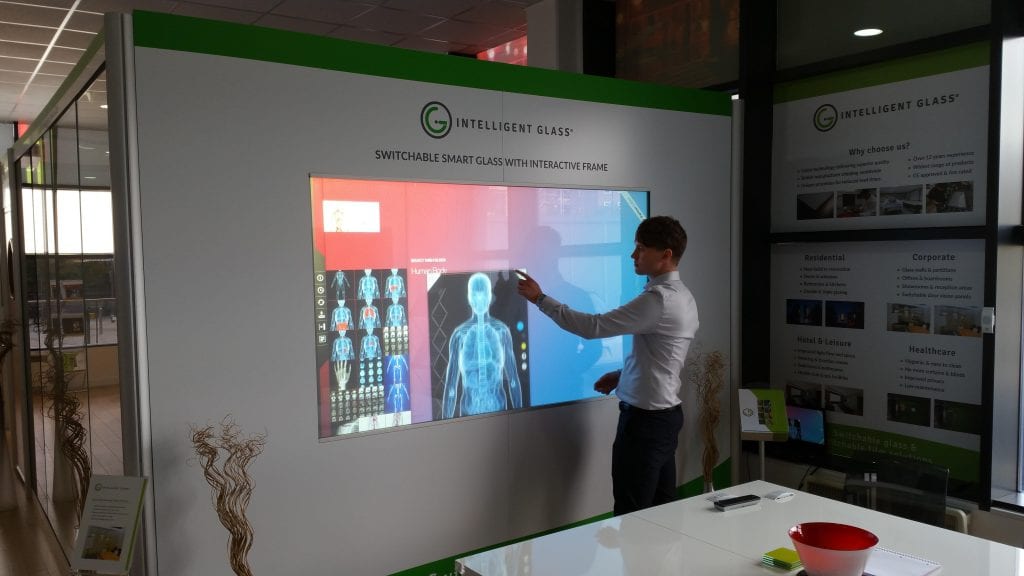 ---
Interested?
Intelligent Glass offers a wide range of switchable smart glass solutions with options including toughened glass, laminated panels, smart glass windows and the retrofit self-adhesive switchable film.
If you would like further information, a pricing quote, or to discuss ideas for using our switchable smart glass and smart film products, please get in touch using the form below, or call us on +44 (0)1226 351 759.