Everything You Need to Know About Smart Glass
Smart Glass is the next big thing in interior design. Integrating best-in-class design with innovative technology, Smart Glass allows your windows to open up your space while giving you the power to control opacity at will. It works wonders for both residential and commercial interiors, making rooms more aesthetic and more functional. If you've ever wanted to know more about Smart Glass, you've come to the right place.
What exactly is Smart Glass?
Smart or Switchable Glass is a technology that is capable of adjusting privacy / light transmission on demand. Our Switchable Smart Glass can be controlled via a simple electrical switch, remote or voice control, which can change the opacity of the glass from clear to translucent.
How does Smart Glass work?
This is perhaps the most common question we're asked. It's also one that's often tricky to answer as our diverse range of products all entail different manufacturing processes.
At the very core of our technology are PDLCs, otherwise known as polymer-dispersed liquid crystals. In simple terms, polymers allow liquid crystals to be embedded in the film, which then can be sandwiched between panels of glass. These liquid crystals have optical characteristics that aren't constant across their structure, so they can change when electricity is applied to them. For example, when an electric current is passed through PDLCs, they separate, allowing light to pass through the glass and rendering it transparent. Conversely, the glass's natural state (when no voltage is applied) sees the liquid crystals randomly arranged in a way that causes light waves to refract through and reflect away from the glass's surface—making it look frosted or translucent.


How do we make our Smart Glass?
Each product in our Switchable Glass range has its own unique manufacturing process, with variations in the type of glass used and the production technique depending on the end environment and purpose. For example, laminated safety glass is ideal for the workplace or public buildings with a high footfall and double-glazed units are best suited to external windows in homes or commercial settings. Our Toughened Switchable Glass has the most basic composition, with our switchable layer simply being factory coated to a single glass panel, but as the applications become more complex as does the composition of the glass. Our Switchable Film is literally the heart of each Smart Glass product we create, which is made up of:
PDLC Technology- The core of the film comprises of liquid crystal droplets that are suspended in polymer (PDLC)
ITO Film – The PDLC core is sandwiched between 2 layers of the Indium Tin Oxide (ITO), an optically clear conductor that encases the PDLC layer and enables it to work correctly.
PET Film – Finally the PDLC and ITO layers are finished with a coating of the Polyethylene terephthalate film (PET film), a strong, light, and clear plastic that protects the film and its PDLC core whilst still allowing optical transparency.
Our facilities lead the way in terms of precision manufacturing and rigorous quality control which has allowed us to produce market leading Switchable Glass products for over a decade, including:
If you want to find out about even more different types of smart glass, check out our comprehensive Switchable Smart Glass range.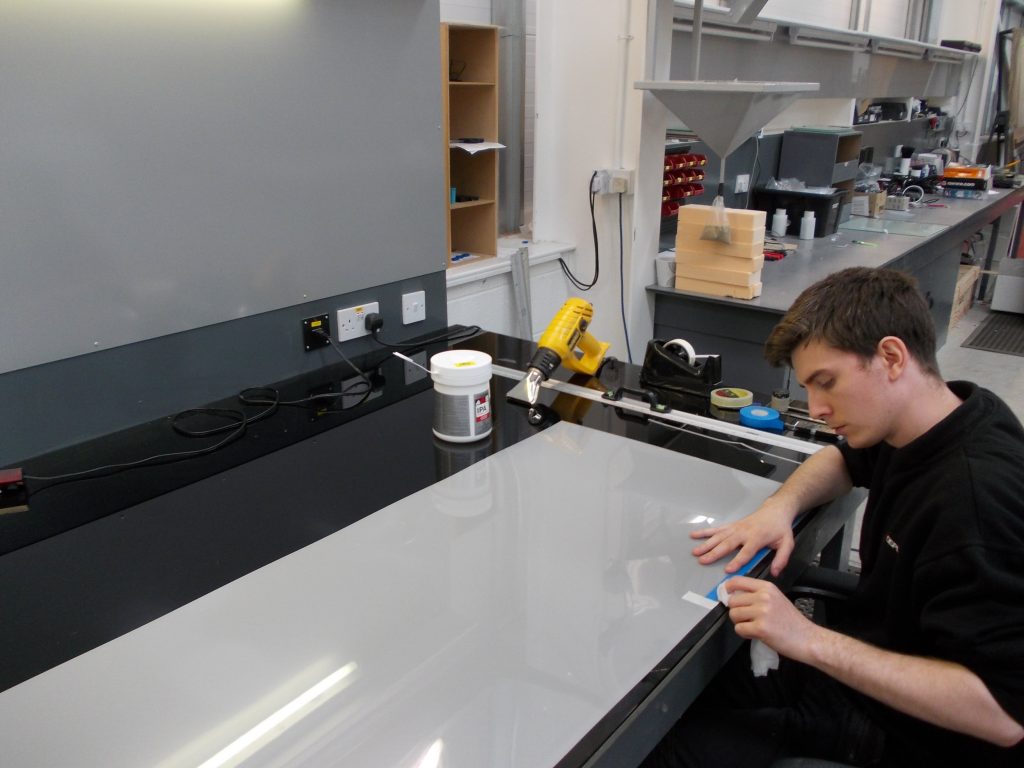 Is Smart Glass safe to use?
Yes, Smart Glass is safe to use. This is a common concern, as many worry about whether the Smart Glass or the PDLCs conduct electricity when in use—but don't worry, they don't. The internal PDLC layer does not conduct any electricity. Rather, it acts as a capacitor, storing the electrical energy that's needed to rearrange the PDLCs as and when required.
As the UK's leading manufacturer of Switchable Smart Glass solutions, we've been trusted by institutions like the NHS to future-proof their hospitals and treatment centres. This has bolstered our strong sense of responsibility and our commitment to safety and quality. By applying our technology, we've been able to transform hospital facilities by strengthening patient privacy and hygiene controls.
How much does Smart Glass cost?
While quick cost estimates are not available on our website, it's important to first set out your specific requirements to identify which type of Smart Glass best fits your needs. Variations in structure, glass type, and functionality all affect price, and it's better to have an informed approach so your costs are clear upfront and there are no unwelcome surprises later on.
If you'd like to find out more about our prices, check out our Product Catalogue Request Form.
Is Smart Glass right for me?
Whether you're a homeowner, a business owner, or a designer who is looking to give their properties an edge by using new technologies, Smart Glass is a long-term investment in both the aesthetics and practicality of your home or office.
Our expert sales team have worked on a huge range of projects from smaller home improvements to huge scale hotel fit outs, so are well experienced in creating the perfect solution for you, taking everything into account from the size of the project to the timeframe you're working to.
Once you've figured out your requirements—whether they be privacy, insulation, or lighting-related—and narrowed down your budget, Smart Glass panelling or windows are a great way to create openness throughout your space, without giving up on privacy or practicality.


---
Where can I learn more about Smart Glass?
If you want to find out more about the manufacturing process, gather design ideas, or see the product design in more detail, get in touch with one of our Smart Glass experts today.