Helping Healthcare get 'Smart' with Smart Glass Privacy Solutions
Intelligent Glass has a solid and trusted reputation when it comes to supplying the healthcare industry with Switchable Smart Glass solutions. As an emerging technology, health groups all over the world are switching on to the vast benefits that Switchable Glass and Film (also known as Smart Glass or Switch Glass) products can bring to their environments. From cutting edge privacy to the practical hygiene aspects of this solution, there are a wealth of applications that can see Smart Glass used to its fullest potential with healthcare requirements in mind.
Switchable Smart Glass is a popular privacy solution that is often used to achieve certain style or privacy objectives, focusing on the minimalist and cutting-edge theme of the technology that brings so much control and flair to a privacy or design project. Operating on a switchable mechanism, Smart Glass changes state from frosted to clear at the press of a button, offering a unique way of controlling privacy from a distance. The uses of a glass-based technology that can do this are extensive, from outdoor window privacy using our Switchable Double Glazing to indoor partition privacy using our Laminate Switchable Smart Glass. However, the wider implications of using these products are extensive and merit comprehensive assessment when deciding on such solutions, especially in a healthcare application. In many cases, Switchable Smart technology can offer a far more superior solution to that of traditional or existing solutions, tying the complexities of patient privacy with hygiene, practicality, efficiency and versatility.

One of the more popular solutions called on in a healthcare environment is Laminate Switchable Smart Glass and once the reasons for its popularity are understood, it is clear that this is a far superior solution to many other privacy options. The first thing to consider in this context is that installations that use Laminate Switchable Smart Glass are often cases that require a degree of Health & Safety consideration. The product itself integrates Switchable technology into a double layer of glass, making it a more durable and safer product than standard Switchable Smart Glass.
Laminate Switchable Smart Glass offers a safe and highly functional solution to privacy concerns, as an NHS hospital in Paisley have recently discovered when they installed 42 panels into 5 of their critical patient areas. Traditionally where curtains or blinds were involved, professionals would have been required to physically go to check on the patient, pulling back the blind or curtain whilst potentially disturbing them, decreasing infection control and costing precious time to do so.  Now, with a control switch at the nurse's station, healthcare professionals are able to keep a close eye on patient progress without having to disturb them or even leave their station if the patient is stable.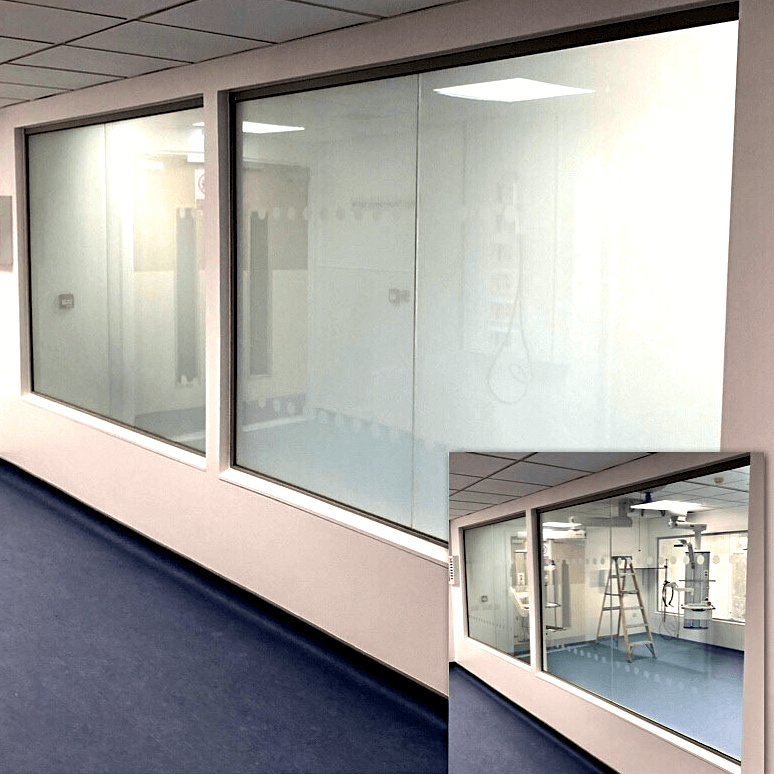 The benefits of this application from a rapid response perspective is also highly worth considering too. Being able to control room privacy from even a few meters away in such an application could help mean the difference between life and death. Upon identifying an issue from switching the glass prior to action, professionals can begin planning emergency care straight away, as well as granting them additional time to grab what equipment might be needed on the way to the patient. In being able to control room privacy from their station, professionals can respond to warning signs of an issue, instantly switching the glass to assess the problem from where they stand, simplifying and making the way they respond to problems a lot more efficient.
It is notably the hygiene factor that plays a starring role in the benefits Smart Glass technology can bring to a healthcare environment. Hygiene considerations in a critical patient intensive care unit must take a high priority in a preventative capacity, with the overall conditions of this environment being almost completely in the hands of those with a duty of care; patients who find themselves in the unfortunate position of being in an ICU are often incapacitated and most likely left vulnerable to poor hygiene practices should they be occurring. Laminated Switchable Smart Glass minimises this risk, offering a practical privacy solution that can be switched without even touching anything in the room itself. Helping to control infection control as well as helping to save time spent on cleaning, Laminate Switchable Smart Glass can be cleaned just like any standard glass, offering a significant upgrade on many existing privacy options such as curtains, which can harbour bacteria from being touched and be costly on time and resources to clean effectively.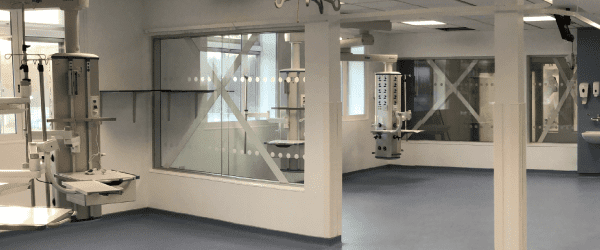 Clutter in an ICU environment is also a massive consideration, often with emergency care equipment being required to hand, clear open spaces are not always a luxury that can be afforded, especially with privacy curtains installed into runners on the ceiling causing them to naturally segment the room. Using Switchable Smart Glass for the interior windows of an ICU room offers unobtrusive privacy to the room itself, rather than just a section which is cordoned off with a dividing curtain which may limit what can be done in the room.
The principal of how Laminate Switchable Glass is manufactured can be applied to range of glass types as well, ushering in a new generation of Laminate Smart Glass products that can offer fire safety compliance, sound insulating properties or even for the more style conscious or visually coordinated healthcare facilities, a range of coloured glass to boot. The versatility of our Smart Glass products usually allows Intelligent Glass to offer bespoke solutions that will perform to the specifier's requirements, be those related to functionality, precision or even installation, Intelligent Glass are well-known for overcoming challenges.
Amongst the most versatile products we offer ranks the incredible
Switchable Smart Film
, which is a self-adhesive retrofit film that can be applied to most transparent surfaces, including glass partitions and interior windows. As a fantastic and cost-effective solution for basic privacy, this technology is ideal for more general privacy applications. A great example could be as use for room dividing, as often, resources in healthcare facilities are already stretched, so if a need for a new room or space arises, a partition can be an effective way of sectioning the room for temporary dual use. Using Switchable Film on the partition can then help further divide this room, clearly defining sections that are in use for relevant functions as well as offering visual privacy to both sides.

Working well for patient waiting areas, a section of the space could be switched to frosted for patient-nurse consultations to channel patients to the appropriate places, but then switched to clear and converted back to a waiting area if admissions increase and the space is needed to accommodate waiting patients. Ideal for an 'ad hoc' room dividing application, Smart Film can even be doubled up as an effective rear projection screen, turning a clear glass screen, window or partition into a productive projection surface that can clearly mark out instructions, provide waiting room entertainment or even advertise. This offers a highly productive and multi-function privacy solution that brings so much more than many other solutions can.
Moreover, applying Smart Film to other areas that would benefit from additional privacy adds an extra dimension of patient care and consideration, especially in operating theatres or treatment rooms, where observation may be required temporarily along side the need for privacy. As with a medical centre based in the Netherlands pictured below, most facilities with these requirements are already fitted with observation windows that separate the treatment room from the observation room, allowing for a self-adhesive Smart Film solution to be applied to the observation side, preserving the easy-clean properties of the glass on the patient side, keeping it hygienic, private and practical.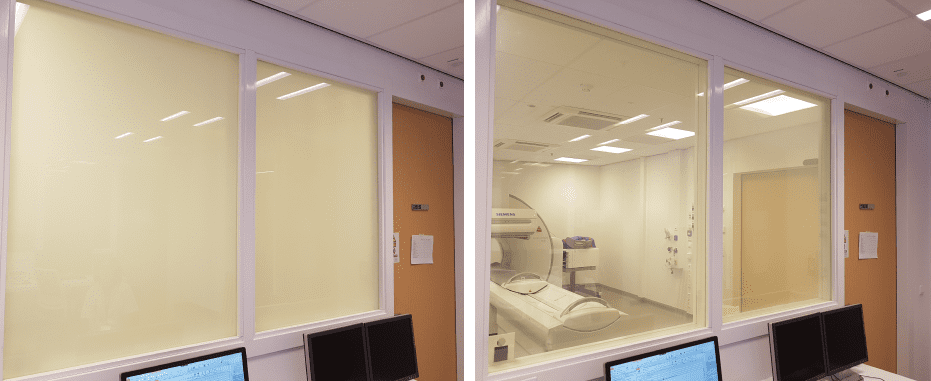 Another highly functional use of Switchable technology in a healthcare environment is the impressive Switchable Door Vision Panels, which allows for privacy within a room until the press of a button. Glass panels that are characteristic to the door itself can be upgraded with Switchable functionality, allowing them to change from frosted to clear using a button and mechanism powered by a replaceable battery pack installed into the door itself. For meetings, consultations and any other need for room privacy, this solution allows for a disruption-free and simple system of preserving that privacy, which could be highly important in many healthcare applications.

Whilst practicality and efficiency are high on our list of benefits of Smart Glass in a healthcare setting, it does not blind us to the point that a privacy solution of this calibre is highly stylish and fits in extremely well from a design perspective in a clinical and minimalist environment. Some medical establishments may look to this cutting-edge privacy solution in order to focus on the patient experience rather than efficiency and Wokingham Medical Centre, a visually stunning GP surgery based in Wokingham offers a good example of how the finer details can bring wider benefits to their community. In this award-winning refurbishment project, Wokingham Medical Centre had 56 Double Glazed Smart Glass windows installed into GP treatment rooms, allowing GPs to offer patients the luxury of room privacy or total natural daylight at the press of a button.
Offering the patient this option may help make them feel at ease in a situation that many feel uncomfortable in, helping to re-frame the way patients see their treatment. Likewise, the impact on the GPs themselves may be vastly significant, allowing them to still benefit from the ambient light that passes through Switchable Smart Glass when switched to frosted. This exposure to daylight in an environment where they could just as easily be put into a room with no windows may bring enormous advantages. The benefits of work-space daylight exposure are widely documented to help promote clarity of thought and positivity, which may be transferred into patient care and staff well-being.
---
Interested?
Intelligent Glass offers a wide range of switchable smart glass solutions with options including toughened glass, laminated panels, smart glass windows and the retrofit self-adhesive switchable film.
If you would like further information, a pricing quote, or to discuss ideas for using our switchable smart glass and smart film products, please please get in touch using the form below, or call us on +44 (0)1226 351 759.