A Stunning use of Smart Glass in the Home
With people spending more time in their homes now than ever before, renovations and refurbs are at an all time high! With strict government guidelines making leaving the house less appealing, now is the perfect time to breathe new life into your living space and really make a house a home. According to the Office for National Statistics between 28th March and 26th April 2020¸ people in England and Wales spent 147%  more time gardening and doing DIY during lockdown.
Now restrictions are easing, with contractors finally able to resume work in people's homes, our team travelled down to Chichester, West Sussex, to install some of our Switchable Film in an exciting renovation project. Prior to the installation we undertook a site survey, discussing potential options with the customer about the application and performance of the product. We also completed a consultation on technical parameters of the project like the wiring aspects as well as working with the customer to choose a bespoke trim to finish the job. Most importantly our team ensured that we would be able complete the install as safely as possible, ensuring all activity was permitted by government guidelines in place at that time.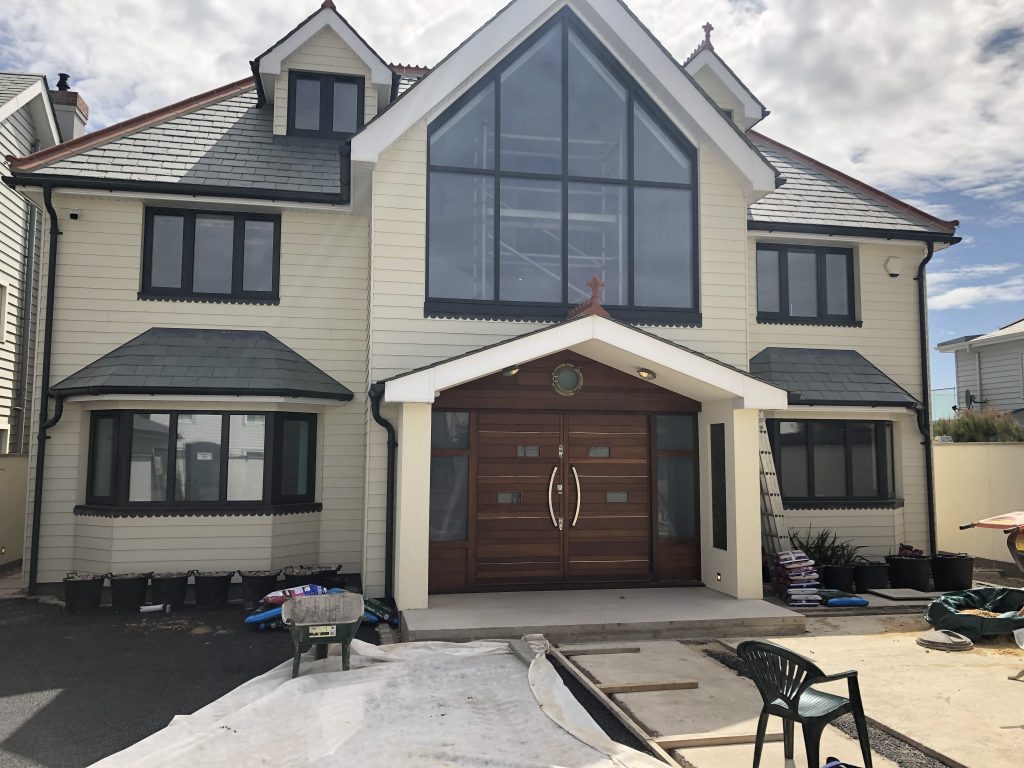 After the survey, our team carried out a full installation at the property of 9 pieces of Self-Adhesive Switchable Film, 8 of which were applied to a stunning gable end window located 10 metres above floor level. Due to the size and abstract nature of the window, each piece of Smart Film was custom cut in our in-house production facility to ensure the perfect fit for the existing surface at the property. Another piece of film was also applied to an upstairs 'landing area' overlooking the atrium of the property to provide privacy at will and separate the two areas of the home without disrupting the flow of natural light through its interior.
Over two days, the team prepped each existing surface for the application through a rigorous cleaning and sterilising process to provide the best possible conditions for the film to be installed. Each piece of Smart Film was then applied to the existing glass windows with a protective fascia housing the electronics. Despite each piece of Switchable Film undergoing a full quality and testing check before leaving our production department, a final product test of the film was done by our installation team, confirming that the customer was 100% happy with the result before signing the project off.
Of course, our customer was over the moon with the final product and had nothing but good words to say on the install with the project manager saying:
"We would just like to say what a great couple of guys you sent to site to carry out the install. Polite, efficient and can-do attitudes are all words the Site Manager used so please pass on our sincere thanks."
Normally, having large windows like these would usually cause masses of sunlight to flood into the house throughout the day, creating a stifling and uncomfortable environment. Our Self-Adhesive Switchable Film offers a UV stable solution that reduces solar heat gain by up to 40% whilst still allowing an abundance of natural light into the living space.
Our Switchable Film can be remote control operated, perfect for installations like this where the glass can be switched from up to 25 meters away. One of the most exciting features of our switchable technology range is that it is also compatible with popular home automation software like Amazon's Alexa or Google Home, turning any house into a smart home.
As seen in this project, our Switchable Technology has incredible potential in all areas of your home, with Switchable Stairs, Smart Glass Skylights and Switchable Bathrooms to name but a few of the previous home improvements our technology has contributed to! At Intelligent Glass we love to see the creative and exciting ways people incorporate Smart Glass into their homes and with our manufacturing process being completely in house we have the ability to offer more bespoke and custom solutions for a wide range of applications. We work directly with contractors and developers on a daily basis, giving both our sales and production teams expertise in ensuring we find the perfect solution for your project.
---
Interested?
For more information and inspiration on how Smart Glass technology can improve your home, contact us via the form below or call +44 (0)1226 351 759 to speak to a member of our sales team.