Product Focus: Laminate Switchable Glass
With so many variations of Switchable Glass available, it can be difficult to decide whats best for your project. Whilst the functionality of the technology widely remains the same, switching from frosted to clear on command, many of our products have their own key selling points making them better suited to certain applications. Here we focus on one of our best-selling products across both the residential and commercial sectors, Laminate Switchable Glass.
What is Laminate Switchable Glass?
Laminate Smart Glass is a more robust type of switchable technology compared to standard Toughened Switchable Glass. The manufacturing process bonds the switchable interlayer between two sheets of glass, meaning the Switchable element is completely cased between the panels, unlike the toughened alternative where the switchable layer can be reached directly from one side of the glass.
Where can I use Laminate Switchable Glass?
By protecting the switchable interlayer between two pieces of glass a much more robust solution is created, making it an ideal choice for high-traffic areas. The structure of Laminate Switchable Glass makes it the obvious choice for bathroom or wet room applications, namely from a health and safety point of view where standard toughened glass cannot be used due to the switchable layer being exposed.


Laminate Smart Glass is the most popular choice in healthcare applications, with our laminate product being specified for NHS hospitals all over the UK as well as private clinics and treatment centres. With hospital curtains in the UK only required to be replaced every 6 months, our Laminate Smart Glass offers a more hygienic solution that can be cleaned in the same way as any standard glass screen.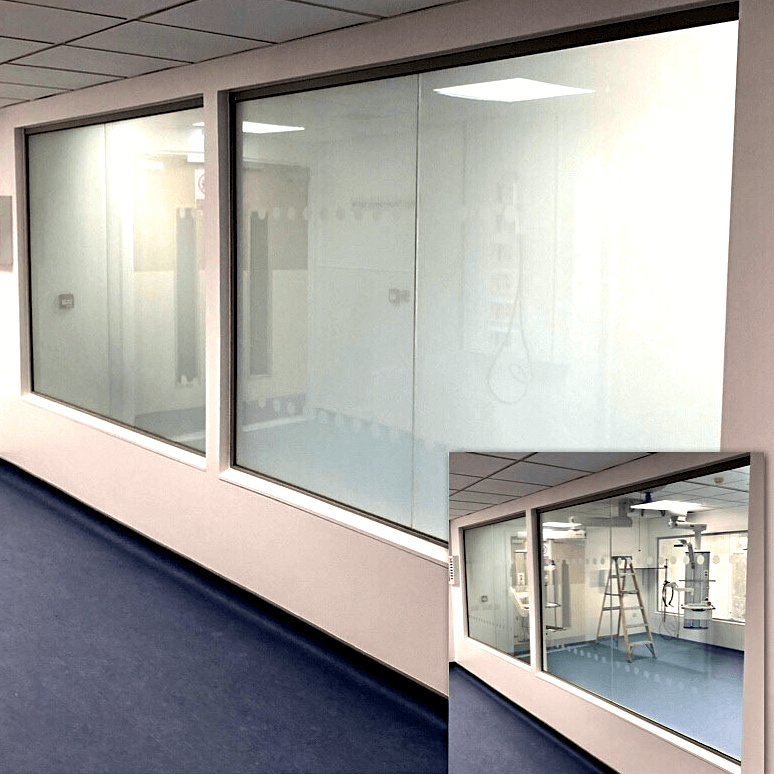 We have also developed a Curved Smart Glass solution using laminate glass, where previously Switchable film was retrofit to existing glass limiting its use to applications recommended by film. This advancement has given way to a complete Curved Glass solution that can be used in areas such as wet rooms, showers, hospitals and high-traffic zones.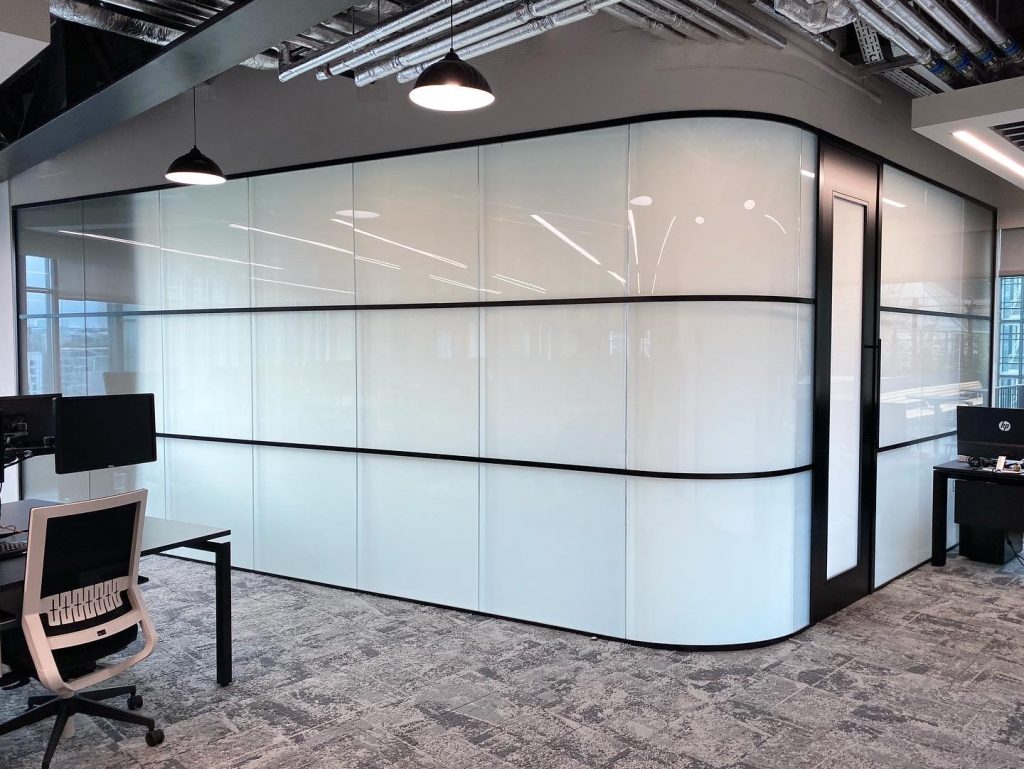 What are the benefits of using Laminate Switchable Glass?
One of the main benefits of using Laminate Switchable Glass is its durability which allows for its use in busier and more specialist environments. The existence of Laminate Glass creates a window of opportunity for switchable technology to be used in a bathroom environment other than just on external windows. With the switchable layer contained our Laminate Smart Glass has become a popular interior feature in partitions between bedrooms and en suites, allowing for homeowners to create brighter spaces by making the most of smaller areas where there are no windows.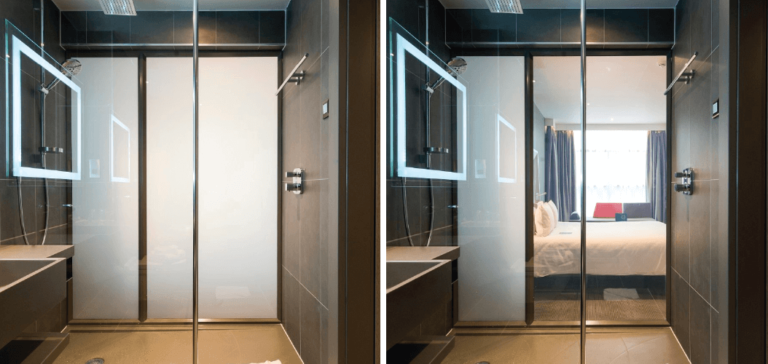 It's robust nature also means it has a better longevity when compared to toughened glass in similar applications as it can have more thorough cleaning and is more withstanding of general wear and tear. Its ease of cleaning is one of the reasons it's so popular in healthcare applications, helping to make the daily routines of staff easier as well as creating a less clinical, modern environment for patients.
How do I know which type of Smart Glass is best for me?
With so many similarities between switchable products, it can be difficult to make this decision yourself, which is why we make sure you don't need to. We have over 15 years of experience in manufacturing Switchable Glass and having worked on projects of all shapes and sizes around the globe, we can confidently help you find the best solution for your project.
We offer retrofit solutions like our Switchable Film, designed to be more cost-effective and less disruptive than buying an entire replacement. Our sales team are on hand to discuss your requirements in detail to really understand your needs and bring your ideas to life.
Whilst our standard range of products is usually the most recommended, we also have a choice of more specialist solutions that customers are less aware of that can end up being a better fit. For instance, Switchable Double Glazing might be your obvious choice for replacing your external windows, however, we also offer Grey Tint Switchable Glass, offering a more aesthetically pleasing darker shade of smart glass which is a favourite for residential bedroom applications.


---
Interested?
If you'd like to learn more about Laminate Smart Glass or have a project of your own you'd like to discuss, get in touch now via the form below or call +44(0)1226 361 306.