Creative Ways to use Switchable Glass in Your Home
Over the years we've supplied many ambitious projects with Switchable Technology, ranging from the most sought-after advertising space in the world, Harrods- London, to swimming pool of the 86-meter-long C2 super yacht. With such incredible large-scale projects often taking the spotlight, the innovative ways switchable can be used around the home is often overlooked. With the 'improve, don't move' trend growing steadily over the last few years, in 2019, by August we had seen around 16,880 people increasing the outstanding size of their loan when they remortgaged, due to opting to extend or improve their current property instead of trading up the housing ladder.
With over 15 years of industry experience, we've seen our switchable technology used in some amazing projects with customers constantly striving to create out of the box solutions. We've collated some of our favourite ideas to provide you with some serious inspiration for your next home renovation project!
We were introduced to the incredible idea of Switchable Glass Stairs in a barn conversion project from the mind of Simon Baker. Alongside the stunning oak features and bespoke lighting, the stylish curved staircase sits above the main bathroom of the property; providing privacy when required yet flooding in natural light on comma and, creating the appearance of a brighter open space. This clever use of Switchable Glass allows sunlight to reach areas of the property that would have otherwise been dark and only illuminated by artificial sources of light, when both clear and frosted. Not only does a solution like this provide an answer to the seemingly impossible task of getting natural light into tucked away areas of the home, it also provides a stunning architectural feature to property. Simon also cleverly positioned a skylight in the roof directly above where the Switchable Glass was installed, giving him the option of an enviable view of the starry night sky when taking a bath or shower.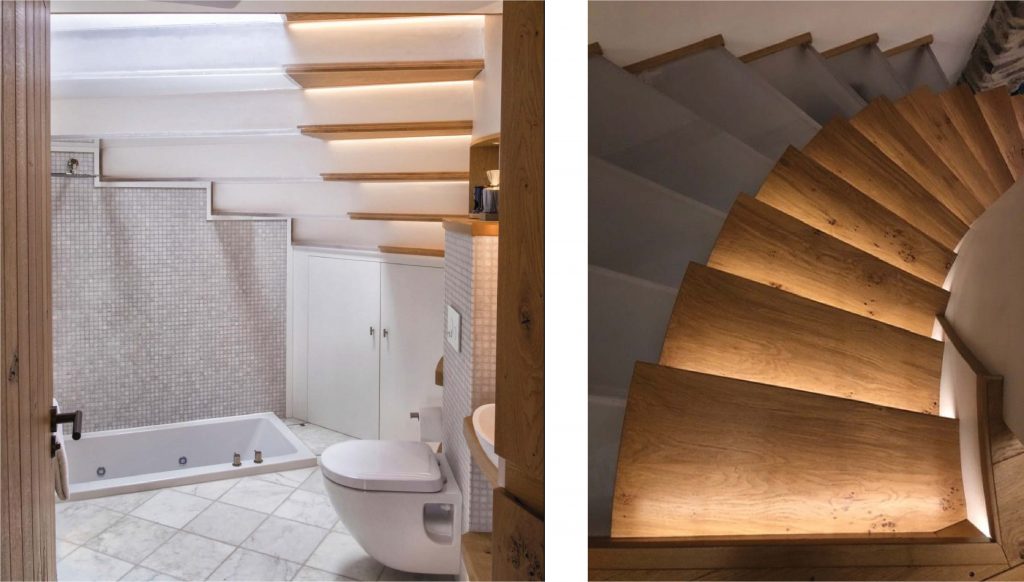 Generally, skylights do not require privacy to be considered due to them usually being placed on the roof of a property, but with houses popping up in all shapes and sizes, the concept of a standard skylight being 100% private is very rapidly being challenged. With homeowners striving to make the most out of the space they have in the home, skylights are commonly being used to allow light into other areas of the home, including basement renovations and one storey extensions where planning permission doesn't allow standard windows. Using a Switchable Skylight not only allows you to benefit from constant optimum natural light transmittance when compared to using blinds, it also allows you to have a clear window at the press of a button. Using a remote control, they can be operated from up to 25 meters away allowing you control even from the other side of the home.


Switchable Laminate glass is a perfect way to open up any bathroom with limited space, whilst adding a stunning focal point to the room. Our switchable technology has been used in 100's of different bathroom environments in many different ways, the most common being as a partition between an ensuite and bedroom, allowing light into all areas of the room with the added benefit of privacy when necessary. Our Laminate Switchable Glass is also commonly used inside bathroom areas, where renovators are looking to make the most out of their space without effecting the end and luxury décor of the room. Our full Switchable Glass and Film range can also be paired with home automation devices like Amazon's Alexa or Google Home giving you complete control over the state of the glass via voice control!
Glass partitions are very common in office and corporate environments, with people often seeing this as their only suitable environment and failing to see how exciting a feature they can make in the home. Using Switchable Glass to separate areas in the home creates an environment impossible to achieve with standard false wall partitions, instead creating airy, open living spaces for a range of rooms around the home. We've seen homeowners create full walls using Switchable Glass, between home offices and more high traffic areas of the home, or even between two separate bedrooms, allowing their children to have their own private space as well as allowing them to experience the closeness of shared space when the glass is clear. One of the great features of our Switchable Range is our option for Sound Insulating Switchable Glass, making the aspect of using it for room dividers around the home even more appealing with the promise of total privacy from the outside world.
An even better way to emphasise a Switchable Glass Partition as the main feature in any room is to pair it with a projector to create a HD/4K Switchable Glass Projection Screen at the touch of a button! This is a great way to make the most of the space available, by attaching the projector to the ceiling, you eliminate the need for TV wall mounts or chunky TV cabinets, freeing up precious wall and floor space in the home.




If you love something enough to showcase it in a display cabinet, then why not really turn it into a show with the addition of Switchable Glass! Our Self-Adhesive Switchable Film can be retrofitted to any existing glass surface, turning any glass display cabinet into a high tech, exciting storage space! This is a great way to ensure privacy as well as security, our Switchable Films natural frosted state hides the contents of the display, acting as a deterrent for potential thieves if the cabinet is easily viewable from public spaces.
Using Switchable Glass in doors has endless possibilities and applications around the home. Full Switchable Glass Doors can be a great feature for ensuite bathrooms, walk-in wardrobes and kitchen pantry spaces, allowing these more hidden spaces to benefit from constant natural light without compromising on the modernity of the space.
Switchable Vision Panels are also a great feature to use throughout the home on both internal and external doors. Powered by a replaceable battery pack concealed within the door, this solution allows discreet visibility into (or out of) a room at the push of a button. Previously we have installed these within the front door of a property, giving the homeowner the benefit of constant privacy yet the power to check who it as the door before opening it. This is seen a great solution for people living in more high traffic areas who are likely to require more privacy or more vulnerable homeowners who would benefit from the option to see who is at the door without the need to open or unlock it.

With all the creative ideas mentioned above and our ability to produce bespoke solutions in many custom shapes and sizes, you can see the sky really is the limit when using switchable technology in the home! Other examples of our Switchable Film and Smart Glass used in home development includes Switchable Double and Triple Glazed windows, Switchable Bi-Fold Doors and Switchable Garages. We also offer a range of standard and specialist switchable technologies perfect for business environments like corporate spaces, retail stores and hospitality and healthcare environments.
---
Interested?
If you're looking into renovating your home and think Switchable Glass would add the finishing touch, contact us now to see how we can help transform your home via the form below or call +44 (0)1226 351 759.